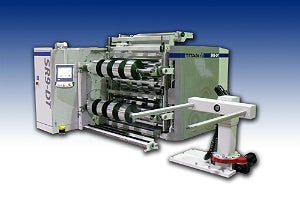 Atlas Converting Equipment successfully launched the 'next generation' Titan SR9-DT (Dual Turret) slitter rewinder in November 2011 at the ICE Europe exhibition in Munich, Germany, and Bak Ambalaj, based in Izmir, Turkey, was among the first Titan customers to place an order for this latest technology. The new turret rewinder was installed during the summer of 2012 at the company's extensive production facilities in Izmir – a major industrial region of Turkey – approx. 350km south-west of Istanbul.
Bak Ambalaj was established in 1973 and has become one of the largest converters of flexible packaging materials in Turkey. With three production sites in Izmir, the company employs more than 400 personnel and generated a turnover of more than $100m in 2011.
Its converting capacity exceeds 750 million square metres per annum across a wide spectrum of plastic films and includes pre-press preparation, gravure and flexo printing processes, lamination, micro-perforation, stretch and shrink sleeves and stand-up pouches for a wide range of food and non-food applications.
"Our business is expanding rapidly and to meet the increasing demands of our large, international customer base we are investing heavily in additional premises and the latest technologies in converting equipment," explained Mr. Enver Bakioglu, chairman of Bak Ambalaj.
"Our high volume production runs need a fast, high performance slitter rewinder and the new Titan SR9-DT turret rewinder was perfect for our requirements. At up to 1,000 m/min and minimum stop time between runs, it has far exceeded our expectations and we will be installing two more of these Titan machines – one in the first half and one in the second half of 2013," he confirmed.
The Titan SR9-DT already in production at Bak Ambalaj is a 1,650mm-wide machine with automatic knife positioning, Servo core positioning and an automatic electronic slit reel unloading system.
The two additional machines to be installed during 2013 will have a similar specification and will be part of a fully automated and dedicated slitting and end-of-line reel conveying and palletizing hall, currently under construction.
"The Titan technology is very reliable and performs so well that we knew the latest SR9 Series slitters would be the best solution for the high quality production our customers expect," Mr. Bakioglu concluded.
The concept of the Titan SR9 Series technology platform features a unique design using three separate machine modules of unwind, slitter and rewind sections, which enables the converter to easily upgrade the machine specification to meet future production requirements.
Bak Ambalaj has been listed on the Istanbul Stock Exchange since 1998 and has more than 200 customers in 35 countries. Approximately 80% of its sales revenue is achieved in export markets with warehousing facilities in Izmir, in Europe and in the US.
Investment in plastic film production lines in China has been dramatic in recent years and 2014 was no exception.
Atlas Converting Equipment Ltd is pleased to announce that during 2014 it is celebrating 50 years of excellence in slitting and rewinding technology for its...