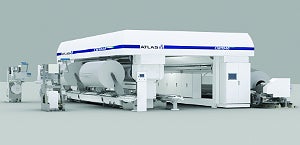 Atlas Converting Equipment is pleased to confirm an order from Daelim Industrial Co. of South Korea for a new 8.7m wide Atlas CW1040 Series primary slitter rewinder. The film slitter will be installed in conjunction with a new BOPP film production line at the company's extensive production facility in the city of Jeonju, approximately 100km south of the capital, Seoul.
The BOPP film line is due to commence production during the first quarter of 2013 and represents a major expansion of production capacity in BOPP film for the Daelim Group with an estimated annual production capacity of roughly 38,000 tons.
The company was founded in 1939 when it was involved in the civil engineering, construction and lumber industries. It became known as Daelim Industrial in 1947 and was first involved in the petrochemical sector in 1979, which remains one of its core business activities today.
Daelim, with its head office in Seoul, is the country's biggest producer of resin compounds and many types of plastic extrusions, including BOPP, LDPE and HDPE films for flexible packaging applications and plastic materials for the construction industry.
The new CW1040 Series technology platform introduces the next generation of more compact film slitting solutions from Atlas in web widths from 2.5 to 10.4 metres (98 – 410 ins.) and delivers higher efficiency, increased productivity and reliability, higher quality rewind reels, reduced noise levels and more effective, operator-friendly control systems.
Daelim Industrial was one of the first Atlas customers to invest in this new technology platform and confirmed the order in October, 2011.
This latest Atlas slitter rewinder technology features wireless rewind arm positioning, automatic knife positioning, direct drive web path rollers and running speeds of up to 1,500 m/min. (4,920 ft/min.) with more precise web tension control.
Electrical cabinets are now fully integrated in to the machines to reduce the space required for installation with 'under floor' service trenches also no longer required for the primary slitter rewinders.
"We installed a 6.6m wide Atlas primary film slitter in 1997 together with a 2.3m wide CW500 secondary film slitter and in the following year, two 1.8m wide Titan SR6 duplex slitter rewinders for narrower width packaging films," explained Mr. Jae Kwan Yoo, VP and director of the Daelim OPP Film Business Department.
"These Atlas and Titan machines have been very reliable and have performed extremely well for our company, so we were very confident about investing in the new Atlas CW Series technology for the primary slitter for our new BOPP film production line. We are looking forward very much to this new installation next year," he confirmed.
"We are delighted to have been chosen again as a preferred supplier of Daelim Industrial and we look forward to a successful collaboration with this important new project – and start-up of the film line – early next year," added Peter Brudzinski, Atlas regional sales manager for SE Asia.