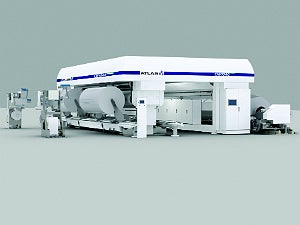 Atlas Converting Equipment is pleased to confirm its participation at the Arabplast 2013 exhibition in Dubai, UAE, from 7-10 January, at Stand 4D135 in Hall 4. The company will present its 'next generation' Atlas CW Series and Titan SR9 Series slitter rewinders for a wide range of plain, coated and printed plastic films and other flexible materials.
Atlas is a world leader in slitter rewinder technology for processing BOPP film and has installed the widest film slitters (at ten metres in width) at four different locations around the world. Atlas has the fastest film slitters, running at 1,500 m/min, at web widths in excess of eight metres. The company has built the widest slitter rewinders for CPP film at widths of more than six metres and BOPA film slitters at more than five metres in width. In recent years, Atlas has also commissioned several primary slitter rewinders for BOPET film.
The new Atlas CW Series technology platform for primary slitter rewinders for plastic film and flexible materials will be presented at Arabplast 2013. The CW1040 and CW3600 Series introduce the next generation of more compact film slitting solutions from Atlas in web widths of between 2.5 and 10.4 metres (98 – 410 ins.) and deliver higher efficiency, increased productivity and reliability, higher quality rewind reels, reduced noise levels and more effective, operator-friendly control systems.
This latest Atlas technology also features wireless rewind arm positioning, automatic knife positioning, direct drive web path rollers and running speeds of up to 1,500 m/min. (4,920 ft/min.) with more precise web tension control. Electrical cabinets are now fully integrated in to the machines to reduce the space required for installation with 'under floor' service trenches also no longer required for the primary slitter rewinders.
The new Titan SR9 Series slitter rewinders will also be presented at Arabplast 2013. In the development of the Titan SR9 Series, Atlas focused its product development strategy on achieving significant reductions in machine downtime for printers and converters, with lower operator intervention and also reduction of costly waste materials – which all adds up to outstanding gains in productivity.
The concept of the Titan SR9 Series technology platform features three separate machine modules of unwind, slitter and rewind sections. The idea being that a converter need only change the rewind section of the machine from a duplex shaft (DS) to a single turret (ST) or dual turret (DT) configuration, to meet increasing production requirements, without the need to change the existing unwind and slitting modules.
The Titan SR9-DT Dual Turret rewinder was launched at the end of 2011 and the duplex shaft (DS) module was introduced earlier this year. The single turret (ST) module will be available early in 2013.
Innovative engineering design has led to the application for four patents on the Titan SR9 Series, including the unique turret support device (TSD) for faster turret rotation on the DT model. Such advanced engineering design has led to significant improvements in the quality of slit reels and significant reductions in set-up procedures.
A newly designed linear tracking slitter (LTS) section on all SR9 modules ensures the shortest and most constant web length between the knives and the rewind shafts for improved web control, giving the highest possible side wall quality of rewind reels – which also reduces the possibility of waste material.
Between all three versions of the Titan SR9 platform, many other new features provide exceptional performance and productivity at running speeds of up to 1,000 m/min. (3,300 ft/min.) The SR9 Series is available in two widths – 1650 and 2250mm (65 and 88 ins.)
To maintain a focus on its objectives for sustainability, the Titan SR9 Series has many features for achieving reductions in the cost of energy and of waste materials. Elimination of all hydraulics helps to provide a cleaner environment and the use of high efficiency motors and regenerative braking enables a considerable reduction in energy consumption, making the SR9 Series the most efficient slitting-rewinding solution in the Titan range.
The Titan SR9 Series is set to smash all productivity records by providing a genuinely flexible and sustainable new approach to slitting and rewinding.
A new service platform for both the Atlas & Titan range of slitter rewinders provides expanded global customer service and support operations, with engineers not only based in the UK but also in the US, Latin America, India and in China.
Atlas & Titan can also provide fully automated and integrated roll handling systems to meet specific production requirements.
Investment in plastic film production lines in China has been dramatic in recent years and 2014 was no exception.
Atlas Converting Equipment Ltd is pleased to announce that during 2014 it is celebrating 50 years of excellence in slitting and rewinding technology for its...