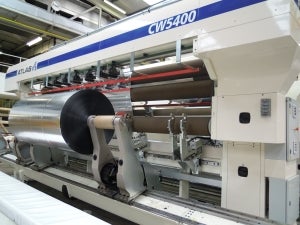 OPP Film of Peru is part of Oben Holding Group and is a rapidly expanding company, which first commenced operations in BOPP film production in 1991 with the foundation of BOPP del Ecuador. The company exported film to the neighbouring countries of Colombia and Peru, then commenced production of BOPP film in Peru in 2003 with the establishment of OPP Film in Lima.
Since then, continuing rapid expansion of business has led the Oben Holding Group to invest in additional BOPP, BOPET and CPP film lines, an extrusion coating line, vacuum metallising machinery and acquisition of other South American film producers. It is a creative and modern industrial group that develops, produces and sells polypropylene (PP) film for flexible packaging for consumer goods and other industrial applications, coated film for the graphic arts industry and thermoformed PP products. It is now present in more than 25 countries in the Americas, Africa and Europe.
OPP Film will this year become the first company to install and commission the 'next generation' Atlas CW5400 Series slitter rewinder at 4.8m wide. The Atlas CW5400 Series is available in widths from 3,600mm to 5,400mm and the complete CW Series of more compact film slitting solutions now covers machine widths from 2,500mm to 10,400mm, with running speeds up to 1,500m/min.
The first of two CW5400 film slitters ordered will be installed at OPP Film in Lima during Q3 this year and will be processing the world's widest metallised BOPP film currently available at 4,500mm. The second CW5400 film slitter will be installed and commissioned early in 2015.
Major benefits of the new Atlas CW Series technology include higher efficiency, increased productivity and reliability, higher quality rewind reels, reduced noise levels and more effective, operator-friendly control systems.
"Atlas has now sold more than 70 of the new CW Series slitter rewinders since their introduction in 2012."
The Atlas CW Series has been designed to cope with the increasing speed of film production lines and does not just rely on a sustainable, increased running speed to achieve this; the CW Series also has faster acceleration and deceleration cycles.
Compared with a conventional film slitter running at 1,500m/min producing rewind lengths of 8,000m, the Atlas CW Series will have a faster rewind cycle, but at only 1,200m/min. When running much longer rewind lengths at a speed of 1,500m/min, together with faster acceleration and deceleration cycles, the new CW Series far out-performs conventional film slitters.
Atlas has now sold more than 70 of the new CW Series slitter rewinders since their introduction in 2012, in widths from 2,500mm to 10,400mm for BOPP, BOPET and CPP films. This latest Atlas technology features wireless rewind arm positioning, automatic knife positioning and direct drive web path rollers, ensuring optimum web tension for films as thin as 6mi up to 125mi. Electrical cabinets are now fully integrated in to the machines to reduce the space required for installation with 'under floor' service channels no longer required.
Investment in plastic film production lines in China has been dramatic in recent years and 2014 was no exception.
Atlas Converting Equipment Ltd is pleased to announce that during 2014 it is celebrating 50 years of excellence in slitting and rewinding technology for its...