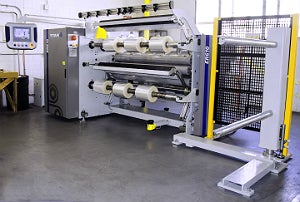 Atlas Converting Equipment Ltd. is pleased to confirm that it has recently commissioned a Titan ER610 compact slitter rewinder at Plastic Connections, Inc., based in Santa Fe Springs, California, about 30 miles (48km) south of Los Angeles, in the US. Investment in the 65in (1,650mm) wide Titan slitter has been made by the company in order to diversify its already flourishing business.
PCi was incorporated in 1996 as a broker supplying directly shipped containers of PET (polyester) films and is a privately-owned, small business that prides itself on a strong sales-oriented philosophy, coupled with a vigorous, lean methodology. After several years of successful business, the company entered the converting business and concentrated its activity mainly in slitting and rewinding, but also in sheeting and die-cutting of PET film.
"Three years ago we installed three slitters up to 86in wide and a 72in wide sheeter," explained John Pastor, sales and operations manager at PCi. "But over the last couple of years, we realized that to be more competitive, we needed more speed. We needed a slitter that was robust enough to handle large, long runs but also flexible enough to effectively process short runs as well. Downtime was a major issue which we wanted to minimize, so productivity as well as OHSA safety requirements were a major concern. Finally, the new slitter had to be reliable and easy to operate and the Titan ER610 was the perfect solution for our business," he confirmed.
The new ER610 slitter at Plastic Connections will be for materials up to 65in (1,650mm) wide with a maximum speed of 1500ft/min. (450 m/min). Rewind diameters can be up to 24in (610mm), with a minimum slit width of 1.37in (35mm). The slitter will also be equipped with laser core positioning and static control systems.
"We sell PET and OPP films to small start-ups as well as large multinational corporations and government entities for packaging, electrical, industrial and graphics applications. We believe that the addition of the new Titan ER610 slitter will open up new markets for us and tap deeper in to existing ones," John Pastor added.
The Titan ER610 has been a great success for Atlas Converting Equipment Ltd. with sales of more than 100 machines worldwide. It is available in two widths – 53 and 65in (1,350 and 1650mm) and features a ten inch touchscreen control system. A pneumatically controlled braking system provides accurate web tension control and a digital edge-guide system controls lateral movement of the unwind reel to +/- 2in (50 mm).
Slitting systems available include shear knives, rotary razor (burst) or razor slitting in air or groove. Optional features include an edge trim extraction system and shaftless unwind roll pick-up from floor.
The Titan ER610 slitter can process a wide range of flexible materials, including plain, printed, coated or metallised film from 20 to 200 microns, a wide range of laminates and paper from 30 to 200gsm. It is a more environmentally-friendly solution with reduced power consumption, no hydraulics for oil-free, hygienic operation, un-lubricated compressed air for zero oil / air emissions and less steel through its compact design. Its 'one-piece' construction also enables rapid installation and commissioning.
"We are very pleased to have had the opportunity to provide PCi with an effective slitting solution," added Thierry Fontolliet, general manager for Atlas Converting North America, Inc. "We are certain that the Titan ER610 will make an important contribution to its business and we look forward to a successful partnership with PCi in the future," he confirmed.
Plastic Connections has many customers in southern California, but also across the whole of the US and beyond its borders.
---
Image: The Titan ER610 compact slitter rewinder recently installed and commissioned at Plastic Connections, Inc., in California.
Investment in plastic film production lines in China has been dramatic in recent years and 2014 was no exception.
Atlas Converting Equipment Ltd is pleased to announce that during 2014 it is celebrating 50 years of excellence in slitting and rewinding technology for its...