Atlas Converting Equipment Ltd Confirms Successful Launch of New Titan SR800 Duplex Slitter Rewinder at ICE Europe 2015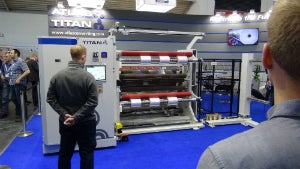 Atlas Converting Equipment Ltd has confirmed a successful launch of the new Titan SR800 Duplex slitter rewinder at the biennial ICE Europe exhibition held in Munich, Germany, from 10-12 March.
The new SR800 1,650mm wide slitter was demonstrated twice daily at the exhibition, processing 30µ plain BOPP plastic film, supplied with compliments of the Poligal Group of Iberia, at speeds up to 600m/min. (2,000ft/min.)
The demonstrations were well-attended and created significant interest during the exhibition. Many customers from various parts of the world expressed serious interest in the new slitter and the Titan product range during the event, with positive discussions on-going for current investment projects.
The Titan SR800 is also available in a 1,350mm web width, and further strengthens the Titan portfolio of high-performance slitting and rewinding solutions. Its modular design provides an economic and simple solution for upgrading to higher levels of automation, as production demands increase. Automation options can include automatic knife and laser core positioning systems, and fully automatic slit reel unloading.
The SR800 features the latest mechanical, hydraulic, pneumatic, electronic and computer control technology to assure converters of consistent, high quality rewind reels with improved levels of sustainability, productivity and easy job repeatability.
The SR800 can process a wide range of flexible materials including plain, coated, printed or metallised plastic films, laminates and label materials from 20µ to 200µ and paper from 40gsm to 200gsm. It has a maximum production speed of 700m/min. with rewind diameters up to 800mm and slit widths as narrow as 20mm.
In 2014, Titan celebrated its 50th Anniversary as a global leader in slitter rewinder technology.
Investment in plastic film production lines in China has been dramatic in recent years and 2014 was no exception.
Atlas Converting Equipment Ltd is pleased to announce that during 2014 it is celebrating 50 years of excellence in slitting and rewinding technology for its...