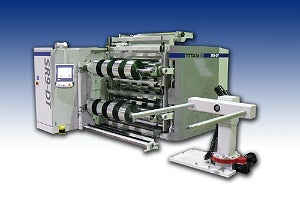 CMS Gilbreth Packaging Systems, Inc. ("Gilbreth"), a division of Cenveo Labels & Packaging, recently installed a 'new generation' Titan SR9-DT Dual Turret slitter rewinder at its production facility in Croydon, Pennsylvania, 20 miles north-east of Philadelphia.
Gilbreth is a US leader in flexible packaging, labelling solutions and key innovator in the ever-changing shrink sleeve marketplace. A forerunner within a group of flexography focused US shrink sleeve converters, Gilbreth changed the market by introducing gravure printing on shrink films. This offering allows clients to benefit from superior print quality and market-leading brand consistency.
Gilbreth's new Titan SR9-DT slitter is 1650mm (65") wide with capacity up to 700mm (27.5") rewind reel diameters on both 76 and 152mm (3" & 6") cores. It also features an automatic knife positioning system with 30+ Dienes knives. The Titan SR9-DT includes the Optimum Roll Conditioning and Guider to Knife Positioning systems, which help reduce material waste for a more sustainable solution.
The new slitter can process a wide range of materials to a minimum slit width of 25mm (1") on both 76 and 152mm (3" & 6") cores. Additionally, it has an automatic electronic slit reel unloading system to meet the expanding production requirements of the company.
"We are very impressed with the productivity of the new Titan SR9-DT turret slitter," commented Brian Garnett, VP and general manager at Gilbreth.
"Set-up for rewinding multiple narrow slit widths for our labels business is systematic and streamlined. Downtime between reel set changeovers is virtually non-existent. This investment has made an extremely positive impact to our slitting capabilities," he confirmed.
The Linear Tracking Slitter (LTS) section on the Titan SR9 Series slitters ensures the shortest and most consistent constant web length between the knives and rewind shafts for improved web control. This advancement provides the highest possible side wall quality of rewind reels and supports the reduction of potential waste.
The new features provide exceptional performance and productivity at running speeds of up to 1,000m/min (3,300 ft/min.). The SR9 Series is also available in a 2250mm (88") machine width.
Gilbreth is a nationally recognised powerhouse in the shrink sleeve labelling and tamper evident band marketplace. Since 1961 Gilbreth has been an industry leader offering strategically engineered full body shrink sleeve labels, a successful alternative to pressure sensitive paper and film labels. In 1983 Gilbreth took the same strategised approach to bring the market cutting-edge graphic reproduction, but this time with tamper evident bands.
"From the moment we rolled out the offering to our customers, tamper evident bands have proven to be a value added offering to our clients. Not only does a tamper evident band offer peace of mind to the consumer that a product is fresh and has not been tampered with, but it can simultaneously give a package a higher perceived value," stated Brian Garnett.
Gilbreth is an integral part of the Cenveo Labels & Packaging Group, a subsidiary of Cenveo, Corporation, a world leader in the management and distribution of print and related offerings. Cenveo is a $2bn company with a long history of delivering top value for its customers. Headquartered in Stamford, Connecticut, Cenveo encompasses more than two dozen entities in more than 50 facilities across the US, as well as international operations in Asia and Central America.
Investment in plastic film production lines in China has been dramatic in recent years and 2014 was no exception.
Atlas Converting Equipment Ltd is pleased to announce that during 2014 it is celebrating 50 years of excellence in slitting and rewinding technology for its...