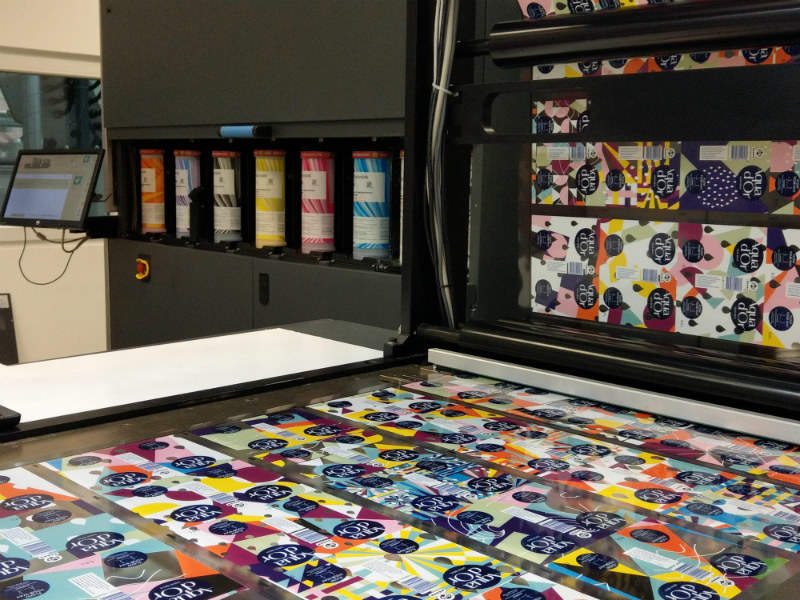 Danone's water brand Aqua D'or undertook a unique promotion in Scandinavia last month.
Aqua D'or worked closely with All4Labels flexible packaging unit Folienprint by using the HP Indigo printing technology.
Every single drop of Aqua D'or natural mineral water has been flowing over a 300-year journey through untouched Danish nature. Drop by Drop. Carving its way until reaching its purity. Aqua D'or wanted to celebrate the journey and the purity in a creative and innovative way.
They made a strong collaboration with Emil Kozak, a Danish design and artist, who shared the visions for the campaign. Together they developed 3,200,000 unique designs telling the story of flows. Each life flow is unique, each design is unique. #Flow your way.
The wrap-around label has been printed by Folienprint All4Labels in a very unique way by using the Mosaic technology ensuring every bottles is going to be unique.
An extensive promotion is performed by Aqua D'or by adding every unique bottle on various billboards and their various networking channels.
The challenge within this project was to create a design which accomplishes to the brand's image. Aqua D'or is the leading water brand in Scandinavia which is offering a unique water quality.
Therefore, a unique and fitting design was required. Folienprint All4Labels supported the brand right from the beginning as the digital printing technology is the only technoloy enabling such a unique production.
Folienprint being a member of the All4Labels Group is specialised on flexible packaging and shrink sleeves. HD Flexo has become a standard in flexo printing and within the past years, Folienprint became the specialist in digital printing.
Using a wide range of materials and number of applications, Folienprint offers nearly for all kind of applications a suitable solution.
Digital printing is one of the major innovative printing technologies within the All4Labels group and as a leader in this technology solutions can be provided right from the beginning.
Fachpack
Folienprint and members of the All4Labels Global Packaging Group show up at the most famous packaging exhibition in Germany this week.
From 25-27 September, the All4Labels Group demonstrates the latest digital developments in self-adhesive label applications, flexible packaging and shrink sleeves.
Folienprint is the leading company in Germany producing in large-scale flexible packaging in digital printing.
Our key topics for this year's Fachpack in Nuernberg:
Packaging in focus and change
The new packaging law in Germany (VerpackG) starts in 2019
Design 4 Recycling
Is it useful to change the packaging?
Latest alternative from renewable resources
Packaging LifeCycle
Does renewable mean environmental?
Get your VIP invitation and send your interest directly using the form on this page, ensuring a VIP demonstration at the site.
The company can be found at Hall 7 / booth 142.