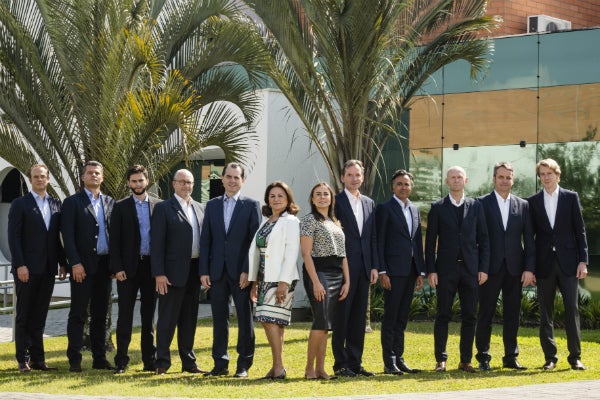 RAKO, X-label and Baumgarten are proud to announce today, they have signed an agreement of merging together to become one of the most innovative companies in their industry, with footprints in growth regions of their customers. Together they will be able to offer a wider product portfolio, more efficient processes and innovative solutions for their customers.
The merger brings together three regional champions in the labeling sector, RAKO Group and X-label Group from Germany and the Brazilian market leader, Baumgarten Group. The newly established entity, which stretches around the world from Latin America through Europe to Asia, is built upon the great track records of all three merging parties, who already own strong positions within and beyond their home markets.
Together, they form a new group that operates 30 production sites across the globe, with more than 3,000 employees and over 2,000 customers from different sectors and industries, exceeding a turnover of $500m. These remarkable numbers in combination with a strong financial backbone through the involvement of Dr. Andreas Jacobs and his teamfrom Genui, will ensure organic and acquisitive growth for the upcoming years.
Adrian Tippenhauer, managing shareholder of RAKO, Jan Oberbeck, managing shareholder of X-label, and Fernando Baumgarten, managing director of Baumgarten, said in a joint statement: "For all of us, this is an important and consequent step to achieve the next level for us and our customers, continuing the process of internationalisation and strengthening our market position, globally and locally.
"Moreover, we will become the new haven for like-minded, innovative entrepreneurs, who want to join a privately owned and managed group, as only strong local partners will lead to great success."
Furthermore, the transaction includes a succession for the Baumgarten family as they hand over the steering of the group to the new headquarters in Europe.
Ronaldo Baumgarten Junior said: "I am personally happy that the future of Baumgarten, with more than 130 years of history, lies within building one of the largest label converters in the world. The partnership is based on trust and the strong believe to create something greater together."
The global leadership team of the new company will consist of the executives that have led their companies to their great market positions to date, including Matthias Kurtz and Adrian Tippenhauer of RAKO, Tim Fiedler and Jan Oberbeck of X-label and Fernando Gabel of Baumgarten.
The headquarters of the new group will be located in Witzhave near Hamburg, Germany. Matthias Kurtz (supply chain), Adrian Tippenhauer (sales and business development), Tim Fiedler (finance) and Jan Oberbeck (sales and business development) will serve as Co-CEO´s of the new founded group.
The merger is under review by German Cartel Office and closing of the transaction is to be expected later this year
Full integration of all companies is currently in planning stage between all merging parties, full roll-out will last through 2017
All companies will operate within their legal structures until further notice
The name of the newly established entity will be announced shortly after closing of transaction
We are offering Shrink Sleeves with a new high-performing light-blocking shrink film: Eklipse™.
Folienprint is constantly working on environmental friendly projects and sustainable products. As a result of these projects, we developed the Starsaver as an alternative to...
starblocker protects your products optimally against the premature loss of freshness, aroma and flavour. In addition, these films offer an excellent migration barrier against mineral...