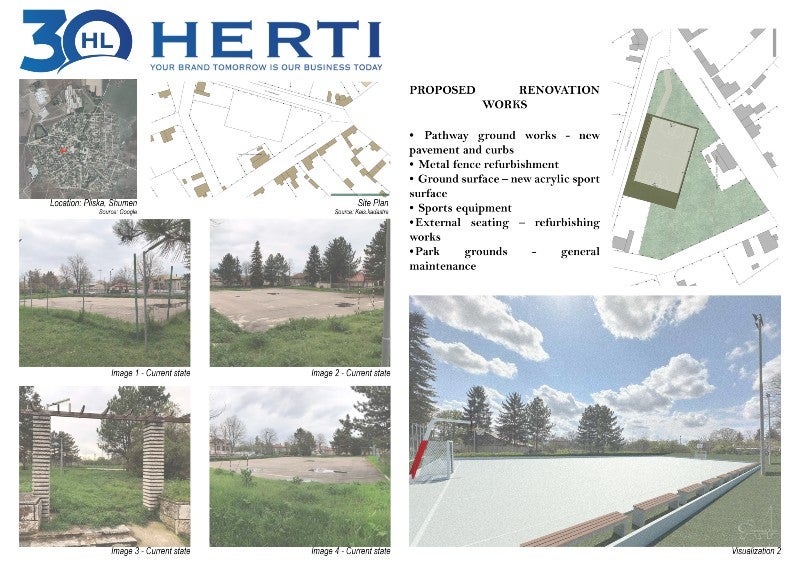 This year, we are celebrating 30 years since we started our journey as a business and dare say as a family. Since day one, we have been operating in the historical heart of Bulgaria – Pliska, our first capital. Being once a centre of prosperity and innovation in the Balkan region, this millennial old city is today a small town where its own people are striving to preserve its character. It is those people who were the first ones to stretch out their hands and form a strong partnership with us. A large number of the people living in Pliska have once worked, or are still working with us in our production plant. Many of the young men and women who are with us from the start have now created families and their children are today working with us as well.
Here we are, 30 years later, and we would like to celebrate this special occasion with the community of Pliska, by giving something back. The only public sports facility in the town is in a very poor state, therefore we have taken upon to restore it. We deeply care for the safety of children and are taking this opportunity to create a safe environment for them to play football, basketball, etc.
The project will cost roughly 45,000€ and is expected to take about two months to complete. The following images showcase the current state of the playground versus what we hope to achieve once the project is completed.
Anyone willing to support our social project can do so by donating a sum to the charitable donation bank account we have opened purposely for the project.
Contact details for donations:
e-mail: e.zaharieva@herti.bg
Elena Zaharieva
Director Investor Relations
Herti JSC
38″Antim I" Str.
9700 Shumen, Bulgaria