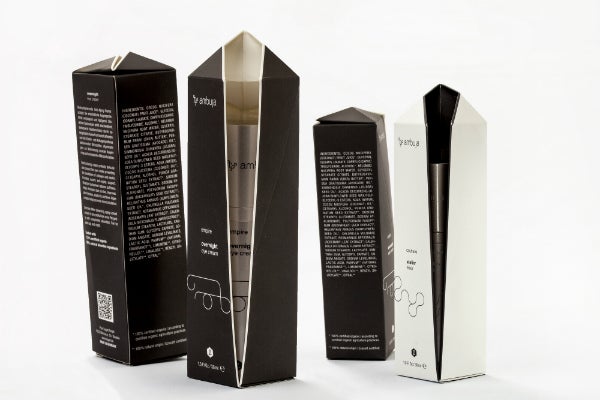 The packaging for ambuja, a natural skin care collection from Legart Forschungsatelier, was the big winner at the 2015 ProCarton ECMA Awards when it was voted Carton of the Year. The winning packaging is made of Invercote G 200 g/m2 from Iggesund Paperboard and has an exciting opening and closure mechanism that makes excellent use of Invercote's structural properties.
"I'm very pleased at their victory and I congratulate them," comments John Mitchell, who is responsible for Iggesund's European sales to converters and brand owners. "Their solution is brave and innovative and they've succeeded in combining a bold structural design with creating a tactile and high-quality experience for the consumer."
"And of course we are especially pleased when Invercote is used to create packaging that has a really distinctive design and stands out on the retail shelves."
Extremely elegant colouring scheme and perfect choreography when opening and closing: only very few packs express the value of their contents so distinctly. The focus is on aesthetics which reflect the technological advance and uniqueness of the brand. The concept's central idea is based on 'organic' opening according to the principles of nature, similar to a fruit or blossom.
The sound effect comes as a surprise and rounds off the experience perfectly: when closing the lid, the product is covered with an audible click and is kept safe at the same time. The sound of the magnetic fastener highlights the unique feeling of holding something precious in your hands, something that is both durable and sustainable.
The natural harmony of this composition can only be realised with paperboard. The reactions of customers with an affinity for design were extremely positive. Its uniqueness makes this carton a powerful positioning aid in this luxury segment as well as offering superior presentation options.
The jury was also enthusiastic in its statement: "This is a carton that was a joy to interact with. Whilst the feel of the carton in-hand was lovely and smooth here was a carton that really impressed the judges on opening as it opened with a flip top where the rest of the pack opened beautifully and partway down the corner to reveal the product. The ace was the audible 'click' sound that the pack made when closed and the flip top closing almost spring-like. When several senses can be engaged, including sound, then that makes for a very interesting consumer pack."
The packaging was converted by the Austrian firm Offsetdruckerei Schwarzach for the brand owner Legart Forschungsatelier. The structural design is by Herwig Bischof and Johannes Gautier. The latter also did the graphic design. The packaging is made of Invercote G 200 g/m2 from Iggesund Paperboard.
The forest and the forest industry's products have a key role to play in countering climate change. Active, sustainable forestry can increase growth in the...
Packaging should play an invisible role in how consumers perceive the taste and odour of foods, beverages and other delicate goods.