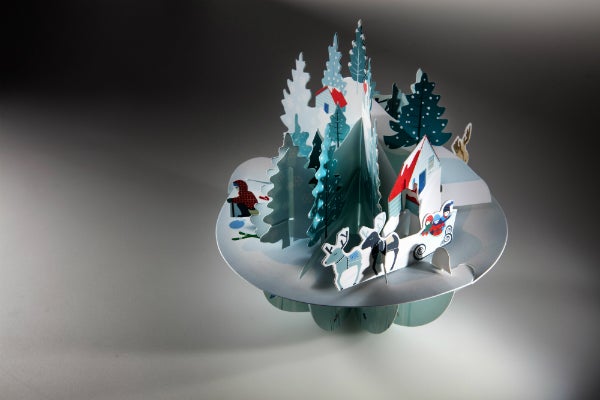 This year's Christmas card from Iggesund Paperboard is an example of extreme complexity. The UK company Santoro Graphics, known for its 3D greeting cards, has created a card with Scandinavian motifs ranging from wolves and spruce trees to underwater fish.
"Santoro Graphics is a company which uses on a daily basis our Invercote Creato paperboard to the extremes of its capacity," explains Anna Adler, who is Iggesund's manager of the project. "It's therefore extra pleasing to be able to show off their work to the breadth of our customers and contacts."
Iggesund Paperboard has a tradition of producing graphically sophisticated and eyecatching Christmas cards in order to show what can be achieved with the company's quality paperboards, Invercote and Incada. For this year's card Santoro Graphics began with the basic construction of a series of cards it calls Pirouettes. The card is delivered flat but is easily lifted up into its 3D format when it is opened.
Santoro Graphics was founded in London in the early 1990s and has made a name for itself with card series like Swing Cards and Pirouettes. For these series the company has consistently used Invercote Creato from Iggesund.
"We make high demands on quality for our intricate designs," explains company founder Lucio Santoro. "Flexibility and tear strength are important properties but when you work with 3D motifs, you must achieve an accurate register not only between the colours on each print side but also between the two print sides."
"When we ordered the Christmas card and said we would supply the paperboard, we were told that would not at all be acceptable because they only want to work with Invercote Creato," comments Anna Adler with a smile. "When we finally succeeded in explaining that we're the people who make it, the misunderstanding cleared up. But it's fun to have loyal customers."
The card is printed on Invercote Creato 350 g/m2 with printing and assembly by Santoro Graphics.
The forest and the forest industry's products have a key role to play in countering climate change. Active, sustainable forestry can increase growth in the...
Packaging should play an invisible role in how consumers perceive the taste and odour of foods, beverages and other delicate goods.