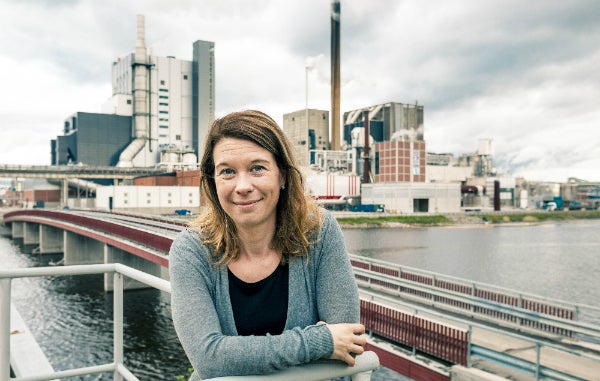 Many small steps add up to large ones. That's a simple way to sum up Iggesund Paperboard's environmental work. It is easy to give examples of Iggesund's multi-million euro investments and their importance.
But the company also makes many smaller investment decisions, which have important environmental aspects. One of these is the wooden bridge that links the mill at Iggesund with the wastewater purification facility on the adjacent island of Skälön.
"Long-term environment work is less about making a few big decisions and more about making many small decisions which include the environmental aspects," explains Anna Mårtensson (pictured), environmental manager at the company's Swedish paperboard mill, Iggesund Mill. "In this case a wooden bridge was a better environmental choice than a concrete one."
For over a century bridges in Sweden have primarily been built of steel and concrete. But now wooden bridges are gaining ground again. They are as durable as concrete and are also beautiful. When their environmental aspects are also considered, wooden bridges are a serious alternative.
The modern history of wooden bridges in the Nordic region really began in the 1990s. At that time Sweden, Norway and Finland agreed to develop common standards and technical solutions for wooden road bridges, which would have the same performance and lifespan as bridges made of steel and concrete.
The longest wooden bridge built in Sweden to date is a 230m-long pedestrian and cycling bridge in the northern city of Umeå. The oldest wooden bridge in the country dates from 1737 and spans the Skellefteå River. As architects and engineers learn more about how to use wood as a building material, more and more wooden bridges are being built.
Iggesund Paperboard has joined the trend. When Iggesund Mill expanded its wastewater purification facility on the island of Skälön outside the mill, the company decided to replace the old bridge with a stronger one. The new bridge would allow heavy trucks heading for the island to avoid making a nine-kilometre detour.
"We quickly calculated that a new bridge would pay off, both financially and environmentally," environmental manager Anna Mårtensson remembers.
Wood was chosen as the material for several reasons. First, the Holmen Group, which includes Iggesund Paperboard, is a forest industry group so using wood is an obvious choice. A wooden bridge is also cheaper and faster to build.
"But above all, wood makes less of an environmental impact than steel and concrete," Mårtensson says.
An engineering thesis from Uppsala University concludes that a lifecycle analysis of a concrete bridge, based on a lifespan of 40 years and including investment costs, construction process and maintenance, results in twice the carbon dioxide emissions as a bridge built of wood. In 1915, a long hollow pipe was built of wood in order to supply the mill with process water. That pipe still exists and still functions perfectly today, a hundred years later. So there is no doubt that wood is a durable material.
At Iggesund Paperboard, sustainability is a cornerstone of the company's work. The environmental aspects, large and small, are considered when making every decision. The company's environmental work is not separate from its main business because good investments always go hand in hand with a better environment.
"Many small improvements lead to major environmental gains, with lower emissions and a greater likelihood that Iggesund Paperboard will continue to lead the process industry's sustainability league tables in the future too," Mårtensson says.
Iggesund Mill's environmental work to date has led to a 50% reduction in the amount of sulphur and particulate emissions within only a couple of years. In addition, the mill's major investments in water purification have resulted in a radical reduction of emissions of nutrients into the Baltic Sea outside the mill. This in turn has resulted in improved water quality and clear signs of recovery in the marine ecosystem.
Even more important, though, may be the focus which is being placed on the human factor, to get every employee to think about what he or she is doing so there is no relaxation of the joint environmental effort.
"Of course, all our work towards greater sustainability also includes the 128m-long, red-painted wooden bridge over to Skälön as one of many small but important steps," Anna Mårtensson concludes. "And it's very beautiful, too."
Facts:
The bridge to Skälön is 128m long and has a single one-way lane, which is 4.5m wide and equipped with traffic lights. The bridge rests on glulam beams bolted together. Using wood as a building material has two major fundamental environmental advantages: first, the wood is produced from a renewable resource and with minimal energy input, and, second, the photosynthesis process in growing trees binds carbon dioxide from the atmosphere.
It is also often both easier and cheaper to build in wood than in other materials. From a lifecycle perspective, wood is therefore an advantageous choice in terms of efficient resource usage, energy consumption, carbon dioxide emissions and waste.
The forest and the forest industry's products have a key role to play in countering climate change. Active, sustainable forestry can increase growth in the...
Packaging should play an invisible role in how consumers perceive the taste and odour of foods, beverages and other delicate goods.