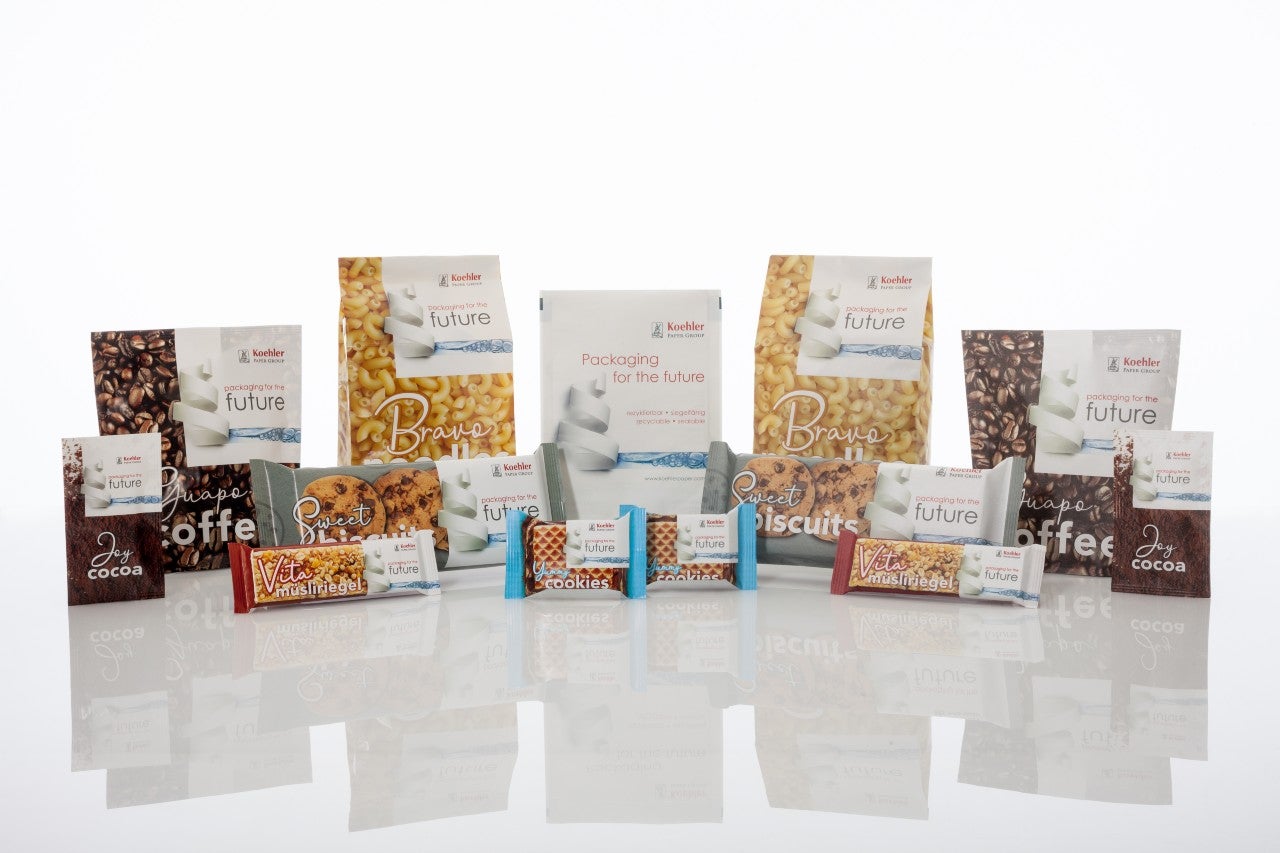 Koehler Paper Group and Syntegon combine sustainable packaging with process reliability and efficiency.
The packaging industry represents one of the most crucial interfaces when it comes to implementing the principle of the circular economy in trade and industry. While consumers are challenging the manufacturer, the manufacturer must not only focus on packaging materials, but also on the technology that processes them. By entering into a strategic partnership, packaging machine manufacturer Syntegon and paper manufacturer Koehler are making their contribution to driving the circular economy forward.
Sustainable packaging, which means replacing plastic with paper wherever possible, is not just a question of material availability. While flexible packaging paper may well be threatening to displace plastic packaging, both materials still have to share the same machines for the time being. Questions concerning changeover times and even machine conversions and, above all, process reliability in pro-cessing are therefore of primary importance for machine operators. Eckard Kallies, Head of the Flexible Packaging Paper Division at the Koehler Paper Group, explains: "We know just how much pressure the consumer is exerting when it comes to greater sustainability. As a supplier to the packaging industry, we have therefore entered into a strategic partnership with Syntegon, a globally leading processing and packaging technology provider. Although people are demanding to see an instant revolution in terms of greater sustainability, this is only possible by taking an evolutionary path. To ensure that we move step by step in the right direction, Syntegon and the Koehler Paper Group are strategically combining their knowledge."
According to Kallies, the partners have been collaborating since 2018. Technologists and engineers from the Koehler Paper Group meet regularly at Syntegon's test centre for vertical packaging technology. The products of the newly founded Koehler Flexible Packaging Paper Division will initially run on pilot machines there. "We are presenting our new stand-up pouch made of paper (Doy paper bag) together with our partner Koehler. This sustainable packaging solution is a prime example of the benefits of cooperation: You cannot achieve sustainability on your own," says Pierre Hamelink, Key Account Manager & Sustainability Strategy Vertical Packaging Technology.
Thanks to the transfer of knowledge between machine manufacturers and paper producers, the pro-duction of functional paper has been a complete success, according to Kallies: "The feedback that we get from the market is that our flexible packaging paper has outstanding strength and good machinability. We were only able to do this because we develop reciprocally based on each other's knowledge." At Koehler, product manager Alexander Rauer, among others, is also responsible for making this hap-pen. The mechanical engineer has identified a clear goal: "Our goal is to ensure that our customers can continue to use their existing machines – on which multilayer and monomaterials made of plastic have been processed until now – for paper as well. They change the rolls, and that's it. Of course, plastic is more patient than paper. But the people at Syntegon know their way around temperature, pressure, friction coefficients, edges and forming shoulders – and we are adapting to this in paper production.
This takes place on a microscopic level in analyses and flows into our production in the form of adjustments." Hamelink adds: "We are constantly in the process of improving and testing innovations in order to offer sustainable packaging solutions that make no compromises and to share our knowledge with our partners and customers.
This interdisciplinary collaboration is backed up by research work at the Technical University of Darmstadt. In late 2018, the Koehler Paper Group launched the "Green Coating Collaboration" research partnership with them to develop functional surfaces from renewable raw materials. The result of this undertaking is paper that is provided with a water-based polymer layer. "The best thing about it," says Alexander Rauer, "is that our paper is fully recyclable. We are thus providing a material for which a functioning cycle has long been in place and which is moving us one step closer to sustainability in the packaging industry."
More about Koehler Paper Group
The Koehler Paper Group is an internationally active manufacturer of specialty paper. The family-owned company from Oberkirch, southwest Germany, produces over 500,000 tons of paper, board and wood pulp board annually at four locations in Germany. Its products include thermal paper, carbonless paper, decor paper, fine paper, recycled paper, wood pulp board, sublimation paper and flexible packaging paper.
About Syntegon
Syntegon Technology is a leading global process and packaging technology provider. Formerly the packaging division of the Bosch Group, the company, headquartered in Waiblingen (Germany), has been offering complete solutions for the pharmaceutical and food industries for over 50 years. More than 6,100 employees at 30 locations in more than 15 countries generated a total revenue of 1.3 billion euros in 2019. The portfolio of intelligent and sustainable technologies includes stand-alone machines, as well as complete systems and services. Fields of application in the pharmaceutical industry are the production, processing, filling, inspection and packaging of liquid and solid pharmaceuticals (e.g. syringes and capsules). In the food industry, the portfolio includes process technology for confectionery as well as packaging solutions for dry foods (e.g. bars, bakery products and coffee), frozen foods and dairy products.