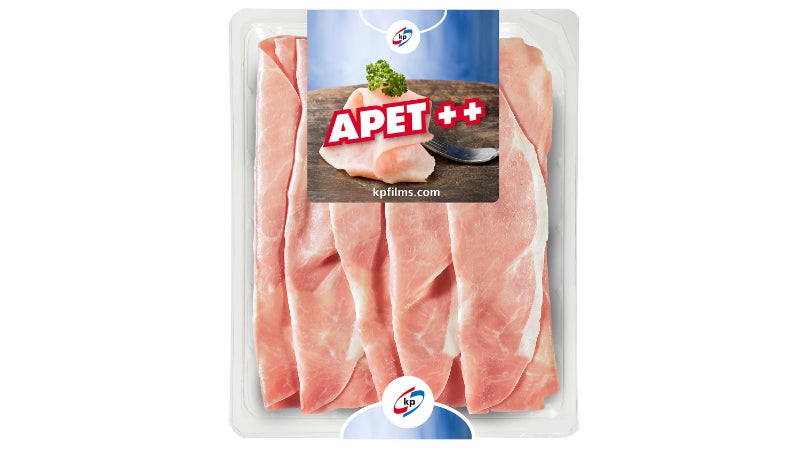 LINPAC and specialist films manufacturer Klöckner Pentaplast have designed and launched a resource-efficient modified atmosphere pack (MAP) for fresh perishable food and liquids.
The novel design combines an APET++ rigid base web from Klöckner Pentaplast with a LINPAC LINtop® PET HB barrier lidding film to create an appealing, secure pack that enables a reduced time-to-market for packers and retailers.
Created to protect and preserve cured and cooked meat, cheese, fresh pasta, convenience foods, and liquids, as well as support a reduction in food waste, the mono PET pack features cutting edge MAP technology and is fully recyclable.
Packers can process the APET++ lightweight mono film with or without an ethylene vinyl alcohol (EVOH) barrier pack, at lower sealing temperatures, and with a shorter seal time on thermoforming lines than comparable polyethylene terephthalate (PET) sealant base webs. In addition, an increase in thermoforming speed is made possible due to better heat transmission.
Retailers of the pack can expect greater on shelf appeal due to the outstanding anti-fog and increased haze properties of LINtop PET HB, as well as enhanced and consistent burst peel performance for consumer convenience.
The base and lid combined present a lightweight, sustainable, rigid pack solution, which offers a high level of food safety and security throughout the supply chain, especially when the seal is compared to polyethylene (PE) and polypropylene (PP) sealant lidding film equivalents.
Business manager of barrier films at LINPAC Erwan Cadoret commented: "We're delighted with the result of our collaboration with the team at Klöckner Pentaplast. Our combined expertise has resulted in a high-performance, stand-out pack that meets our objective of delivering real cost-saving and efficiency benefits to our customers."