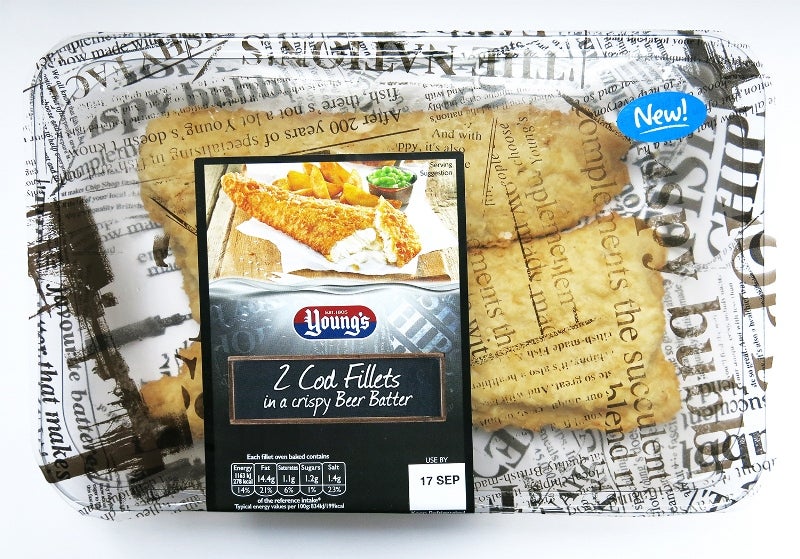 Young's Seafood has unveiled an innovative printed fish pack after collaborating with market leading fresh food packaging manufacturer, LINPAC.
The modified atmosphere pack (MAP), which holds two beer battered cod fillets, features a specially designed newspaper print on both the film lid and tray to create enhanced on-shelf appeal for retailers.
Tapping into the consumer trend for 'modern retro' food packaging, the nostalgic print emulates the newspaper sheets traditionally used to wrap takeaway fish and chips.
The newspaper graphic is laminated to transparent rPET sheet during the LINPAC tray thermoforming process. At the point of packing, an easy-peel, high barrier film lid with matching print is then heat sealed to the tray to create a robust, food-safe MAP pack. The result is a seamless print-wrapped pack effect with 360° visibility of the product inside.
LINPAC developed the innovative pack in close collaboration with the Young's Seafood packaging team. Several ideas and samples were produced by the company and presented to Young's in order to achieve a well-considered final design to be launched by leading retailer, Asda.
Helen Nickells, head of packaging development at Young's Seafood Ltd, commented: "We're thrilled with the final result. The striking design really stands out on shelf and achieves a 'wrapped in print feel' that's unlike anything else on the market. By working in partnership with LINPAC we've achieved a high level of innovation that meets all the core standards we require of our packaging."
Andrew Wilkinson, account director at LINPAC, added: "This was certainly a fully collaborative process. It was important to create a seamless look and we managed this by working closely with our customer, Young's Seafood.
"As a complete pack solution, it was critical we worked as a cohesive team with our print partners, Parkside Flexibles, as well as our LINPAC film business colleagues in Pontivy, France. We're delighted to have delivered a solution that is reminiscent of classic newspaper print, along with the high-level of convenience that's required by today's consumer."
LINPAC's expertise in developing a total-pack solution, that balances innovation with impressive functionality and strong environmental credentials, was instrumental to the creative process. Notably, the new fish MAP pack tray is made from more than 90% post-consumer recyclate supercleaned in-house at LINPAC to meet European food safety regulations.