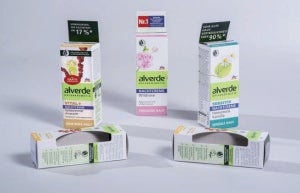 Thanks to its luxury champagne packaging and environmentally friendly cosmetics cartons, Mayr-Melnhof Karton recycling cartonboard impressed the judges on two occasions.
Pro Carton/ECMA Award for Venoplex™
The Pro Carton/ECMA Awards 2013 for excellent cartonboard packaging were awarded in September in Dubrovnik, Croatia. Venoplex (GD2) from Mayr-Melnhof Karton, produced in the Hirschwang mill, took the prize in the 'carton of the year' category, as it did last year. Venoplex ensures a particularly stable construction for the attractive 'Twinkle Box' of champage, manufactured by Moët & Chandon, guaranteed to attract attention at the point of sale with its high-quality print and finishing, as well as its innovative construction.
German Packaging Prize for Multicolor Mirabell™ (MCM)
"MCM is the highest-selling recycling cartonboard in Europe."
On the evening before this year's FachPack at the end of September, the German Packaging Institute premiered the most innovative cross-material packaging solutions of the year as part of its celebratory prize-giving. One of the award winners was MCM (GD2) from Mayr-Melnhof Karton. The consistent ecological concept of the private natural cosmetics brand Alverde, from the German 'dm' drug store, was transferred to the folding carton, and won 'best packaging' at the German Packaging Prize 2013. Previously produced on GZ/SBS, the incremental switch over to our recycling cartonboard began at the beginning of 2013. Printing is carried out using oil-free off-set colours from plant-based raw material. The winner is not only dm and Mayr-Melnhof Karton, but also the environment.
MCM is the highest-selling recycling cartonboard in Europe. It is produced at four locations as part of the group's MultiMill concept. This means we can guarantee the highest-security delivery with tight lead-times, as well as short transport routes.
We would like to congratulate our customers and we are proud to support their successful brands. Both awards highlight the wide application possibilities of Mayr-Melnhof Karton recycling cartonboard. Whether it's functionality, design or sustainability, quality is decisive.