Mayr-Melnhof Karton is the world's largest producer of coated cartonboard made from recovered fibres, and also holds an increasingly strong position in the production of virgin fibre-based board.
Sustainable cartonboard
The company's guiding principle has always been the sustainable and responsible production of high-quality cartonboard, using recyclable raw materials and meeting market requirements. MM Karton's aim is to continue its expansion as a leader in cost, competence and innovation with cartonboard solutions produced from recycled and, increasingly, virgin fibres.
On-going investments in state-of-the-art technology, its people's competence and sustainable environmental solutions have been fundamental for the long-term orientation of Mayr-Melnhof Karton, and enable the timely consideration of market trends as well as the realisation of innovative, future-oriented approaches. MM Karton builds on trust and reliability in long-time cooperation with business partners, offering convincing solutions for current and future requirements – 'Sustainable Board Solutions'.
Cartonboard packaging
Packaging is an integral part of a modern society, providing various functions that support and simplify everyday life. Cartonboard and the product inside must reach the consumer in a safe, undamaged and hygienically perfect condition. The cartonboard packaging must be easy to use and match the quality as well as functional needs of the product. It offers the opportunity to provide information about the product brand, and the product itself: cartonboard is the face of the brand.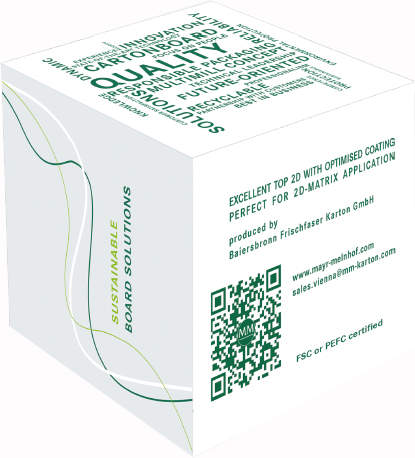 Mayr-Melnhof Karton produces sustainable cartonboard packaging solutions.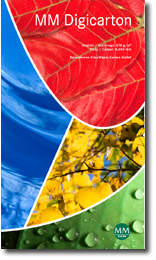 The MM Karton portfolio includes cartonboard packaging that is approved for use in the pharmaceutical industry.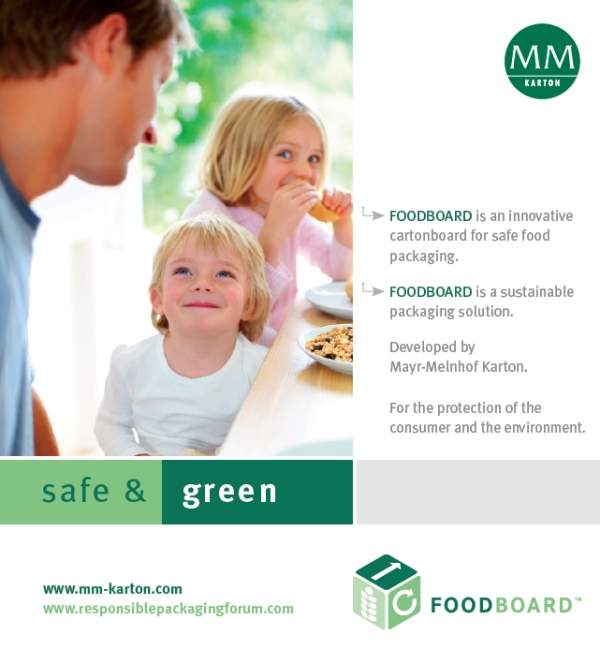 MM Karton also manufactures barrier cartonboard for food packaging.
Mayr-Melnhof Karton products are sold to more than 100 countries worldwide. In seven European mills on nine board machines with an annual capacity of more than 1.6 million tons, MM Karton produces a wide range of white lined chipboard (WLC) and folding boxboard (FBB) qualities, as well as offset and flexo liner (LIN).
Cartonboard know-how based on experience that was built up over decades allows Mayr-Melnhof Karton to develop differentiated solutions, tailor-made to the customers' needs.
Cartonboard packaging for the pharmaceutical industry
The MMK product portfolio includes specially treated cartonboard grades for individual packaging requirements. Customised applications optionally offer protection against grease, freeze or moisture, or face the requirements of the pharmaceutical industry: ink jet and laser jet 2D matrix codes must dry within half a second in order to be in compliance with ISO 15415. The qualities Excellent Top 2D™, Multicolor Mirabell 2D™ and Supra 2D™ match this standard norm for medicinal products.
Barrier cartonboard for food packaging
Food safety is of utter importance for consumers, and so it is for Mayr-Melnhof Karton. An innovation that provides the necessary protection is FOODBOARD™, a barrier cartonboard that shields foodstuff from mineral oil migration and other unwanted substances.
FOODBOARD has been developed by MM Karton's own R&D department and successfully tested for industrial production. After more than ten industrial pilot productions of FOODBOARD, long-term consumer good producer tests have been conducted with selected market partners from the food industry from Q4 2011 onwards. It will be available in the 4Q 2012, long before the execution of the German mineral oil-based ordinance.
FOODBOARD is recyclable and compostable just like any other MMK cartonboard. It meets international packaging directives and can match upcoming food-packaging regulations. To ensure a secure supply chain for its customers, MMK has established a 'multi-mill concept' that allows the same qualities to be produced in different production sites with the same high standards, no matter where.
MM Karton's leadership in production technology is recently marked by the installation of curtain coaters in its mills as well as the construction of a 'swing machine', which allows easy switching between FBB und WLC qualities in response to market demand.
All qualities are certified according to FSC and PEFC, HACCP and ISO 9001, and can be delivered with a Halal seal upon request.
Cartonboard product range
Some examples from our product range include:
FOODBOARD – an innovative cartonboard for the protection of the consumer and the environment
Excellent Top™ – virgin fibre quality (GC2) produced within the multi-mill concept: one quality from different locations to match supply security for big demands (max capacity 300,000 tons p.a.)
Excellent Top 2D™ and MCM 2D™ – cartonboard with optimised coating for pharmaceutical packaging
MM Digicarton™ – the worldwide first FBB cartonboard homologated for digital print
Multicolor Mirabell™ – the GD2 market leader in Europe; production in four mills guarantees maximum availability and supply security
Multicolor Spezial™ – the cost-efficient and consistent GD solution from four mills
Supra Extra™ – the white GT2 alternative for high-end applications
Topcolor™ – the best recycled board quality globally, perfect for food applications
MM Topliner™ – the offset-liner, a great solution for corrugated board producers
X-Liner™ – an outstanding Flexo-Liner; three top-coatings guarantees best printing results – the quality leader