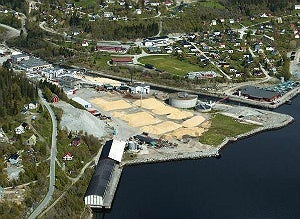 With the pulp mill MMK FollaCell A.S. Mayr-Melnhof Karton secures an independent supply of raw materials with consistently checked in-house semi-chemical pulp for the production of our various cartonboard qualities.
The produced high-grade TMP (thermomechanical pulp) and CTMP (chemothermomechanical pulp) are characterised by high quality and product stability, and are therefore ideal for replacing previous external supplies by self-sufficiency in the future.
With an annual capacity of up to 130,000t, a part of the production will be freely traded in the market.
Tradition and modernity
The Norwegian mill MMK FollaCell A.S. was founded in 1919 and has, since mid-2013, been part of Mayr-Melnhof Karton.
The mill produces high-quality semi-chemical pulp (BCTMP, CTMP and TMP), which is used in MMK virgin fibre, as well as recycled cartonboard qualities in varying degrees.
The production is state-of-the art based on the latest research, both in terms of raw material quality and sustainability.
Environment and society
Against this backdrop, MMK FollaCell A.S. may only process materials from sustainable-managed forests that are certified by international forestry standard systems such as FSC® or PEFC™.
Thus MMK secures the long-term independent supply of sustainably produced raw materials and at the same time makes an essential step for reaching our sustainability targets.
---
Image: Södra mill.