MPS International aims to meet the needs of its clients and consumers through a broad spectrum of offered solutions in the form of plastic bottles and plastic canisters. We achieve this goal every day thanks to our modern technical facilities coming from such companies as Techne, Jomar, Hesta and Nissei ASB, as well as perfect workers' education, full production control and optimisation of all processes. MPS International is built on a solid foundation of industry experience. Since its establishment in 1991 MPS has been operating in the packaging market as a creative company with innovative concepts.
We manufacture plastic bottles according to the specific requirements of the following industries:
Cosmetic
Pharmaceutical
Construction
Motor
Petrochemical
Household chemistry
EBM and ISBM manufacturing of plastic bottles
We manufacture our plastic bottle products based on state-of-the-art production standards having strictly complied with the quality control and production technology procedures. We manufacture plastic bottles in the following processes:
Extrusion blow moulding (EBM): single layer or multi-layer (co-extrusion): double layer (normal and soft touch double layer); triple layer
Injection stretching and blow moulding (ISBM)
Plastic bottles
MPS International develops, designs, manufactures and supplies plastic bottles and plastic canisters. To meet our customers' requirements we offer an extremely broad array of bottles and canisters made of PEMD, PEHD, PP, PET, PET-G in any possible colour, diverse shapes and capacities.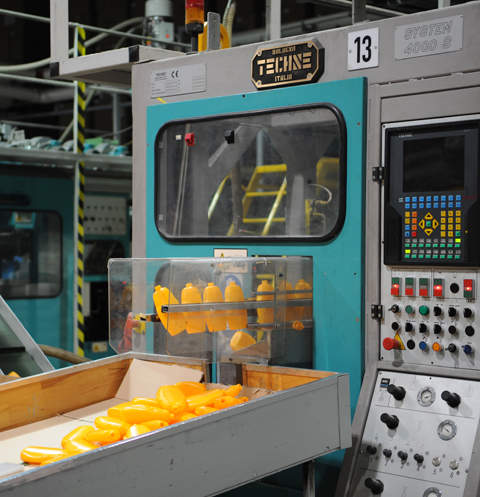 MPS International is a specialist manufacturer of plastic bottles and plastic canisters.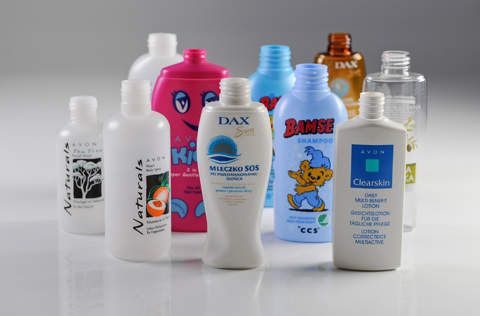 Samples of printed plastic bottles.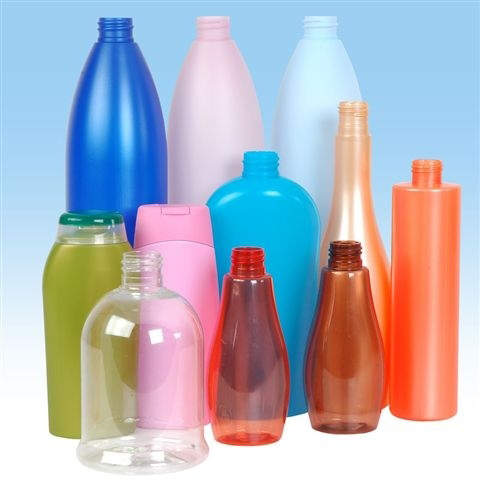 Samples of produced plastic bottles.
PEHD bottles: 30ml, 50ml, 100ml, 200ml, 300ml, 500ml, 1,000ml
PEHD canisters: 1,000ml, 2,000ml, 2,500ml, 5,000ml
PP bottles: 30ml, 50ml,100ml, 200ml, 300ml, 500ml
PET bottles: 100ml, 200ml, 300ml, 500ml
PET-G bottles: 100ml, 200ml, 300ml, 500ml
Plastic bottle printing
We offer plastic bottle printing using the silk-screen method. Our machines allow for making very high-quality overprint on any shape with an opportunity to print a bottle with changing shape along its height, e.g. a bottle with a circular base that becomes elliptic or oval towards the top.
Plastic bottle design and manufacture
We undertake difficult projects requiring product creation from scratch. Already at the initial design stage we create visualisation to reproduce the future packaging in the most real terms. The next stage is making 2D and 3D models, which allows us to assess, in full scale, product functionality and to verify the design assumptions. Positive client acceptance of the design and model allow us to make the tool and proceed with mass production.
We perform and make:
Comprehensive bottle design
2D, 3D visualisations
Prototypes
Moulds for mass production
Sustainable development of plastic bottles and plastic canisters
We permanently seek new ideas and solutions both in and out of the company pursuing perfection. Our culture promotes rational taking of risk and learning from the experience. We make an effort to meet technological changes having developed our activity in line with the spirit of time. We supply some of the best products and services that the industry can provide. We have retained our clients for over 20 years, both home and abroad. This proves the highest degree of understanding of their needs, which is the best value for them.
We take into account the environmental protection issues and apply the sustainable development principle in packaging design and production. We look into the future to establish new needs having diagnosed current problems and seeking development through application of new materials, processes, tools and functions. We accomplish the systems and processes that are being permanently improved having adjusted ourselves flexibly to the changing world and to the requirements of restrictive regulations.
The company is managed in accordance with the integrated management system based on the following standards:
SA 8000:2008
ISO 9001: 2008
ISO 14001: 2004
BRC Global Standard Consumer Product
ISO 22716 : 2007
We succeed more and more frequently, both home and abroad. Our products are recognisable. Thanks to our cooperation with our regular clients and thanks to winning new, stable commercial partners, we dynamically develop and look into the future with confidence.