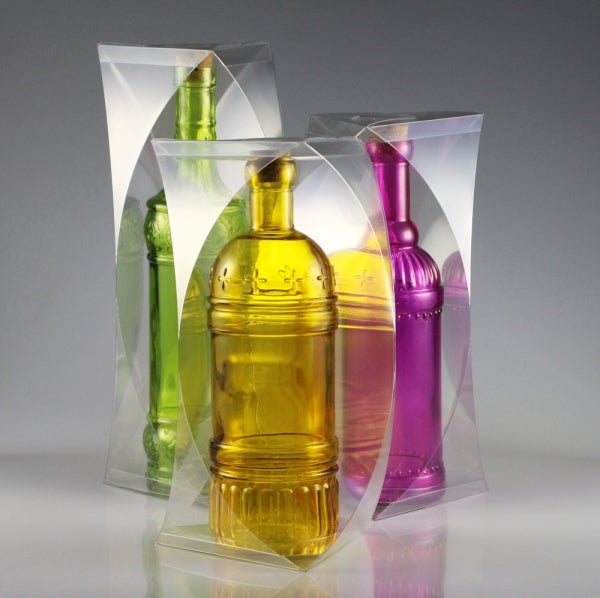 Global brands using bottles and flacons to present their products to consumers can differentiate their offering by using new, creatively designed and elegant transparent packaging from leading European packaging supplier Seufert Transparente Verpackungen (STV).
The new packaging can also incorporate low migration inks, carbon neutral printing and sustainable materials.
The eye-catching design features three concave lenses on a triangular base around a bottle or flacon, delivering a distinctive 'ogive' profile, which can be transparent, opaque or coloured, to best showcase the product to the customer.
Die-cut and easy to assemble without glue, due to an innovative tension-based closing, assembly is highly efficient.
STV's new bottle and flacon packaging can incorporate low migration inks and R-PET materials with up to 85% recycled material, delivering brand owners a genuinely sustainable and attractive packaging solution.
STV sales and marketing managing director Thomas Pfaff said the new packaging offers a combination of compelling benefits with a unique packaging solution.
Pfaff said: "Brand-owners face an ongoing challenge to differentiate their products on the perfume and cosmetics counter, or on the supermarket shelf.
"Our 'ogive' design is not only distinctive and elegant, but also highly flexible, enabling brands to display their products with full effect."
Pfaff highlights that the dynamic and long-form design is particularly effective at presenting the full length of each product, offering brands a considerable competitive advantage; an advantage that enables them to attract new customers and retain existing ones.
Protected by a European Union (EU) community design registration, the packaging can be produced to each brand owner's individual specifications.
Decoration options include leaving the packaging transparent or introducing opacity or colour, offset and screen printing, embossing and hot foil stamping. Brand owners can choose from a range of materials that include PET, PP, PLA and R-PET film. Carbon neutral printing is an option.
Alongside the innovative tension-based side closing, the packaging features standard closures at the top and bottom, cutting any gluing from the process and making the product and packaging assembly process highly efficient. The bottle or flacon is secured by two PET film inserts at the top and bottom.
Pfaff adds: "Brand owners can truly display the best elements of bottle and flacon-based products using sustainable packaging tailored to their exact requirements, which will complement their own unique brand identities."