Seufert Transparente Verpackungen (Seufert) develops and manufactures innovative transparent packaging, providing support for brands wishing to present their products in the most effective way at the point-of-sale (POS).
As well as the company's best known product, Klarfaltbox (clear folding box), the Germany-based company produces printed sheets, transparent lids, seethrough sleeves, thermoformed parts and other packaging made from PET, PP, PVC and PLA film.
The entire development and production processes is managed in-house. Controlling manufacture of PET film, development of the bespoke packaging, tool making, screen and offset litho printing, die-cutting and gluing, Seufert is able to smoothly adapt to its customer's requirements and create tailor-made innovative packaging matching the customer's product and promotion.
Transparent and translucent PET film clear folding boxes
Clear folding boxes are Seufert's best-known packaging, made from transparent or translucent PET film.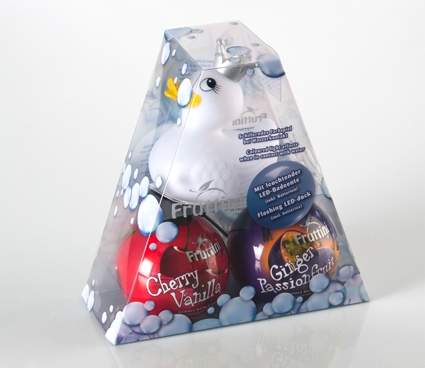 Seufert's most popular packaging option is its clear folding PET transparent film boxes, which are tailor-made to customer requirements.
Brands use printed PET for their promotions and gift packaging. The product stays visible inside and elegant decoration attracts attention.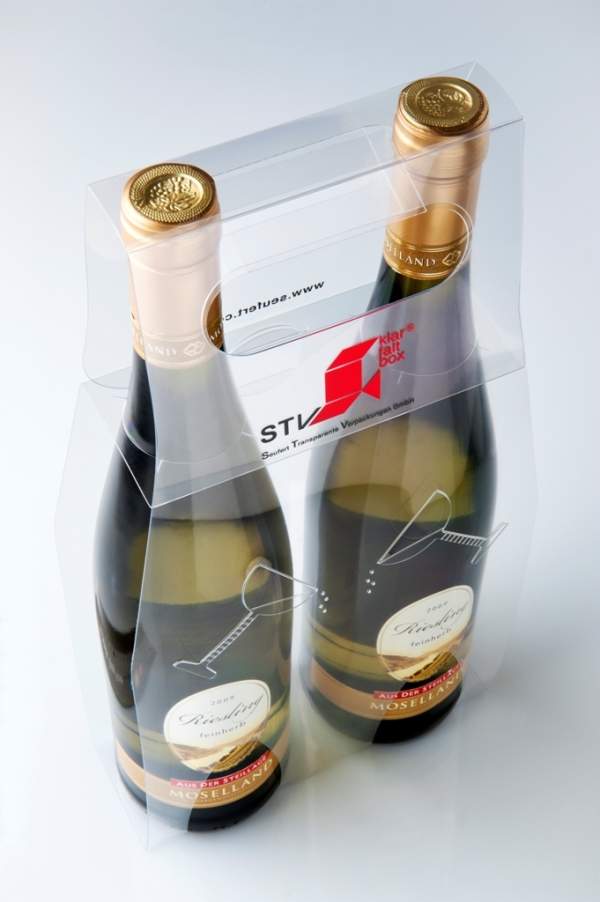 Thanks to Seufert's special closings, gluing is often not required when products are presented with seethrough die-cut parts.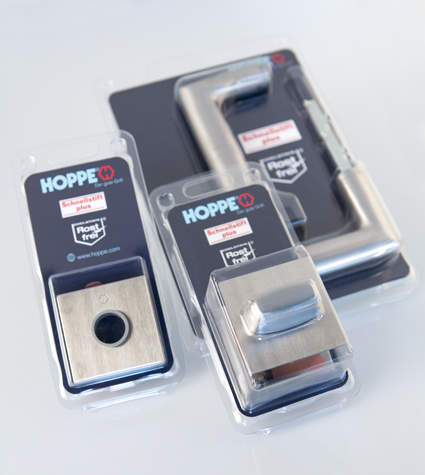 Products cannot be removed from thermoformed packaging without damaging the packaging, making it an ideal solution to protect against theft.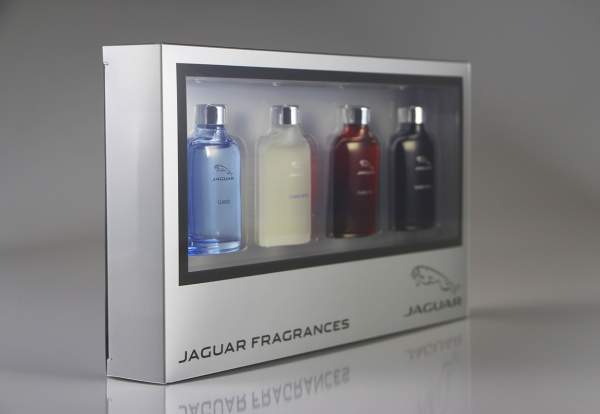 Seufert's transparent packages are popular among promotional cosmetics producers and distributors.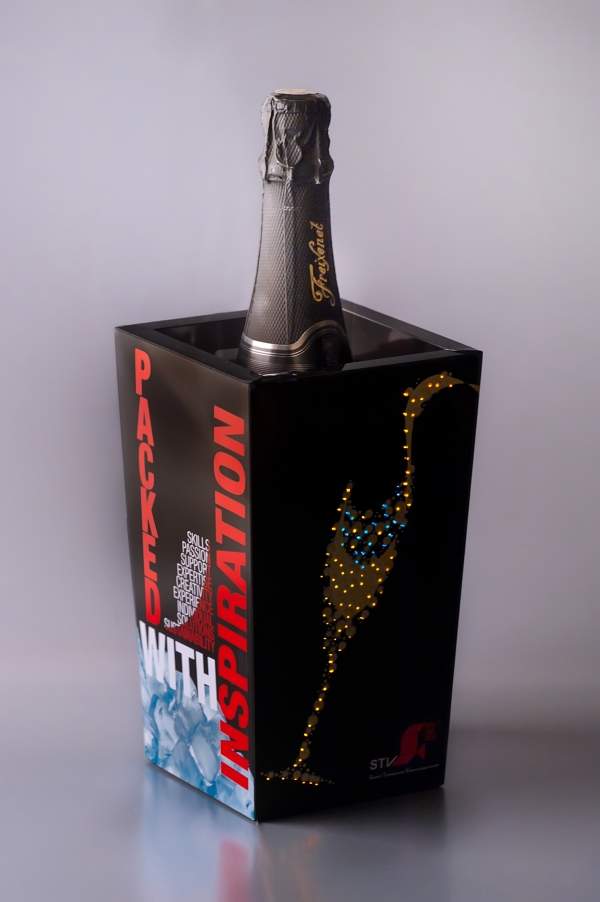 Seufert also develops, manufactures and supplies promotional packaging solutions to the food and drinks, gift, household goods industries and many other markets.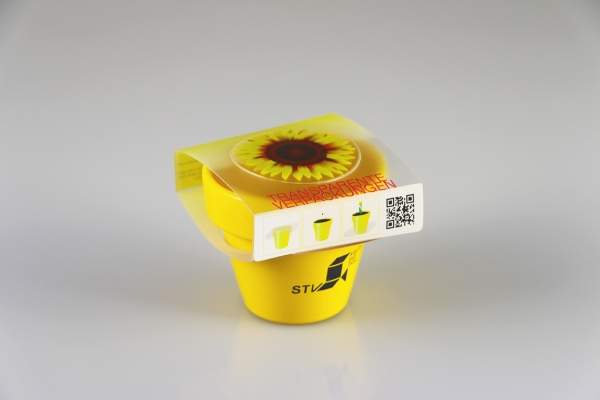 Seufert's packaging decoration options include screen and offset litho printing, embossing and hot foil printing.
Depending on the product being presented, the strength of the PET film, form, type of closing, type of creasing line and decoration options are chosen by the customer.
With regards to decoration, the customer has the choice between screen and offset litho printing, embossing and hot foil stamping. These finishing options provide transparent packaging that highlights the essence of the product and brand. Different types of creasing lines offer automated or manual assembling.
PET film sleeves and other die-cut packaging parts
The best way to make a brand stand out at the POS is by presenting products in an innovative and original way, while not hiding the product by the presentation. Transparent packaging gives brands one of the best options for this.
Transparent packaging ensures a customer's product is visible and recognisable at first sight, while special forms, elegant print and decorations attract attention and emphasise the high-quality of the product.
Seufert also transforms PET films into sleeves, covers and die-cut packaging parts, which are often used in combination with carton boxes. Die-cut parts can also be used as inserts to fixate the product inside a clear folding box.
Again, customers have options with regard to material, form and finishing options, receiving a customised promotion or gift packaging for their product.
Thermoformed PET packaging parts and blisters
Thermoformed parts are produced in a different way to clear folding boxes and printed sheets.
Applying heat to the PET film, Seufert makes the film take the exact shape of a mould. As a result, the thermoformed part holds the product tight, assuring visibility and security at the same time.
Thermoformed parts are the ideal choice for when a product needs protecting against theft, as removal of the product is not possible without damaging the packaging.
Tailor-made design, development and manufacture of transparent packaging
Seufert's packaging is tailor-made for each single project. This is why it is crucial for Seufert to manage the complete project cycle.
Starting with packaging design and consulting with the customer, continuing with tool making and printing, and finishing with cutting and glueing, Seufert is able to adapt every step to customer requirements.
True to the company's slogan 'packed with inspiration', creative design and inventive ideas characterise the transparent packaging solutions by Seufert.
Using low migration inks throughout production and working under BRC/IoP accredited conditions, the company is able to supply a large range of markets from cosmetics to the gift, food, drinks and confectionery industries.
Sustainable recycled-PET and biodegradable PLA packaging solutions
Seufert has been offering environmentally friendly packaging solutions for many years. R-PET film is manufactured from up to 85% recycled PET, while offering the same high-quality as standard PET.
The company also offers biodegradable PLA film, which can be transformed into clear folding boxes. As there are always CO2 emissions during the production of packaging, Seufert offers customers the possibility to offset these emissions.
To demonstrate the company's environmental commitment, clients can then choose to print an 'Our print is carbon neutral' logo onto their transparent packaging. This message is strengthened by a unique, project-specific tracking number.
Manufacturer of clear folding boxes for the European market
With a strong foothold in the local German market, Seufert is successfully supplying companies all over Europe with its transparent packaging solutions. For this reason, the company is working with sales agents in different countries. Seufert's main markets are France, the Netherlands, Belgium, UK, Switzerland, Austria, Italy, Spain, Poland and the Czech Republic.
Please use the form below to send Seufert your enquiry regarding transparent packaging solutions.