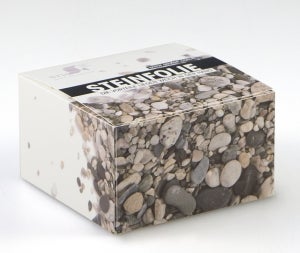 Seufert Transarente Verpackungen (Seufert) is now also producing their folding boxes and other packaging solutions from eco-friendly stone film. This allows the German company to offer brands another opportunity to stand out and convince the end customer with environmental advantages. Stone film is also tearproof, waterproof, writable and has a special soft velvet touch.
Stone film is manufactured from 100% waste and recycling material. It contains up to 60% – 80% rock powder (calcium carbonate), which occurs as residual product in the building industry and in quarries. The remaining 20%-40% are recycling polyethylene, which bonds the calcium carbonate. This means that stone film is mainly build up from a very common natural material.
The production of stone film is ecologically sustainable as well. The manufacturing process does not require any water; CO2 emissions and energy consumption are low and nearly no waste occurs. Besides stone film may be recycled; it may be used to produce new stone film or other plastic products. Due to its environmentally friendly production and recycling possibility, stone film has received the cradle-to-cradle certificate in silver.
Having tested the material extensively, Seufert is convinced that stone film is ideally suited for making plastic folding boxes. The white material is as stable as the usual PET film and may be decorated with offset and silk screen printing. Stone film can be cut, glued and welded. Thus there is no further obstacle for eco-friendly plastic packaging in form of boxes, slipcases or covers. In order to provide this new ecological material to their customers, Seufert is cooperating with the German company aprintia.
In short, stone film is offering a new sustainable alternative for white or fully printed plastic folding boxes. Furthermore, Seufert manufactures die cut parts made from stone film to be transformed into tags, add-ons, bags, posters or display solutions. The German company also produces packaging solutions from the bio-plastic PLA and R-PET with up to 80% recycled material.