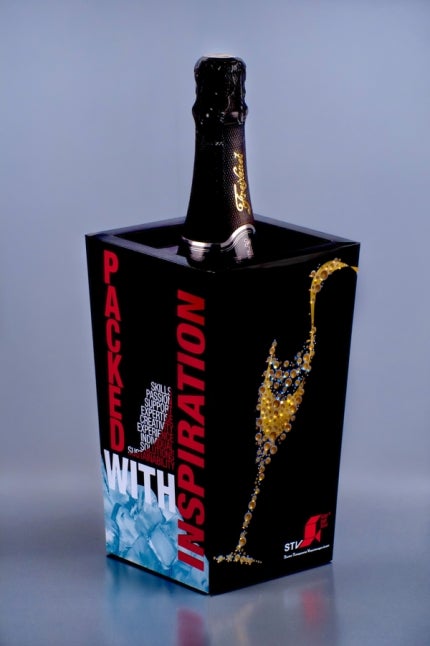 German transparent packaging manufacturer Seufert Transparente Verpackungen is exhibiting their two latest products at the Packaging Innovations event in Birmingham, UK, from 25-26 February.
The first product is a promotional PET packaging with light effects, attracting customers' attentions to the presented product through visual and haptic effects. The second, the 'Dubuy-Box', is a dynamic transparent packaging particularly interesting for presenting bottles and flacons in an elegant and lively way.
By combining packaging made of a coloured, transparent PET film, together with an LED module, Seufert has created a completely new type of packaging presentation for sparkling wine bottles. As soon as the promotional packaging is picked up and moved slightly, the approximately 80 light-points light up in a pre-set sequence of red, white and yellow. It has the shape of a sparkling wine cooler enclosing the bottle of sparkling wine. The black coloured film is printed using offset and silkscreen techniques, with finishing varnishes applied to create haptic effects.
The eye-catching design of the Dubuy-Box features three concave lenses on a triangular base around the bottle or flacon. This delivers the distinctive 'ogive' profile that can be transparent, opaque or coloured to best showcase the product to the customer. Die-cut and easy-to-assemble without glue, due to an innovative tension-based closing, assembly is highly efficient. STV's new bottle and flacon packaging can incorporate low-migration inks and R-PET materials with up to 85% recycled material, delivering brand owners a genuinely sustainable and attractive packaging solution.
Seufert will present its two latest developments, as well as samples of other projects, at its stand F31, Hall 9, at the Packaging Innovations show at the NEC in Birmingham.