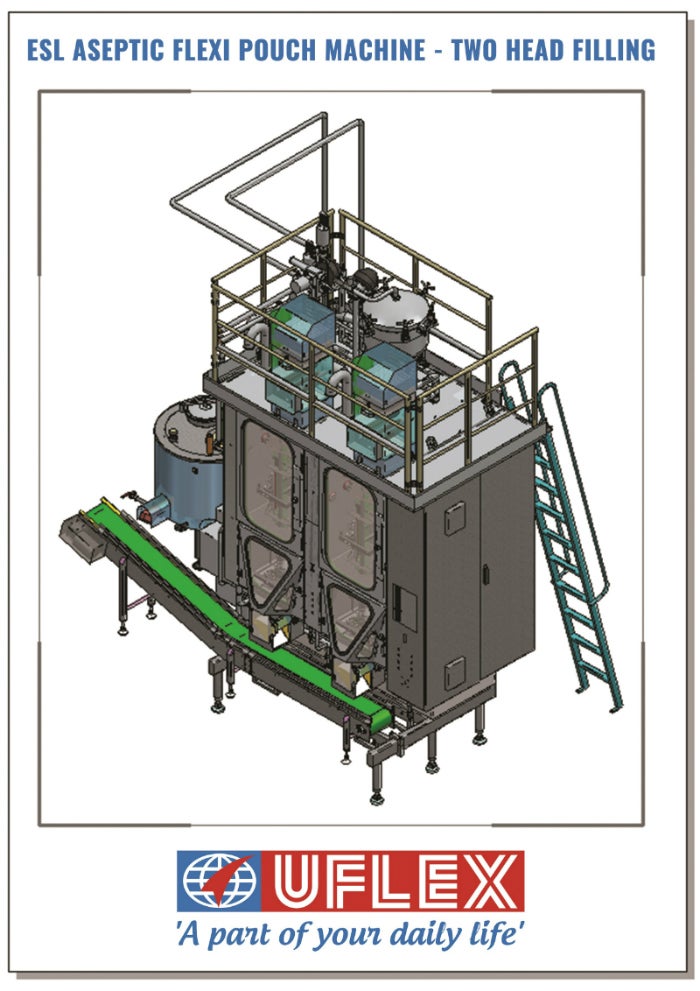 Demonstrating its proactive engineering approach, India's largest multinational flexible packaging materials and Solution Company, Uflex Limited has launched the ESL Aseptic Flexi-Pouch Machine for packaging milk that can extend the shelf-life of the product up to 90 days. Uflex is the only company in India to manufacture this kind of sophisticated machines.
Milk is a perishable product and extremely susceptible to infestation by bacteria and other micro-organisms. Milk brands sold in pouches across India have for long been fretting about the restricted shelf life; time elapsed during the supply and distribution; optimum pasteurisation; necessity of cold chain to be integrated within the overall supply chain and so on so forth. To alleviate all these problems in one go, Uflex has manufactured and launched ESL Aseptic Flexi-Pouch Machine for packaging milk. Milk sterilised and packed in this machine can be kept in normal ambient conditions at the point of sale for as long as 90 days.
This machine packs milk in a pouch that is formed of a five to seven layer extruded/blown polyethylene film with strong barrier properties including a black layer for UV protection. As a fully integrated packaging solution provider, Uflex also offers the especially extruded/blown film.
The machine has an inbuilt automatic CIP and SIP system and can pack milk in SKUs ranging from 70ml to 1,500ml volumetrically. The filling speed for these variants ranges between 5,000 to 2,500 packs per head per hour. On a specially programmed B&R and Siemens PLC fitted to this machine, altering the desired volumes to be filled can be actuated at the press of a button spelling utmost convenience for the milk companies.
The machine has been manufactured with a special Isolation Valve (Sterile Interlock) that does not allow the milk to flow from the UHT to the filling machine in case sterilisation of milk in UHT is incomplete or does not conform to the set specifications. This spares unnecessary invocation of intermediate CIP and SIP of the filling machine avoiding wastage of time.
Gravity Filling System with Precise Tank Level Regulation has been provided in this machine. ESL Flexi-Pouch Machine can be customised with single, two or three Head filling arrangement as per the requirement of the client. This versatile machine is also capable of simultaneously packaging differential volumes on various heads. The ESL Aseptic Flexi-Pouch Machine is fitted with Impulse Sealing system especially imported from USA that ensures a perfect leak-proof seal.
A typical Two Head ESL Aseptic Flexi-Pouch Machine requires 415VAC, three phase, 50Hz supply. The power consumption at peak load is 20kVA. This machine requires steam at a pressure of 4bar with 0.5kg/hr consumption during production and 70kg/hr during sterilisation.
Launching the machine Mr Ajay Tandon, president and CEO, engineering business, Uflex Limited said: "It was a challenge to design and manufacture a machine for extending shelf life of a product as perishable as milk. After meticulous R&D of about 18 months, the engineering business at Uflex has designed and brought out this machine which has been put under commercial run and validation at one of the largest milk packers in India. We are the only company in India to manufacture this machine which easily competes in quality with any European machine of this kind.
"The end-to-end system comprising extruded/blown multi-layered specialty film and the ESL Aseptic Flexi-Pouch Machine offers an optimised packaging solution for milk in flexible pouches. This machine can also be customised for packaging other beverages too."
Expressing delight at the launch of the new machine, Mr Ashok Chaturvedi, chairman and managing director, Uflex Limited said: "I am glad to present ESL Aseptic Flexi-Pouch Machine to the Indian Milk Industry. Roughly 145-150 million tonnes of milk is produced by India every year, out of which several million tonnes get spoiled owing to inefficient packaging.
"In such a scenario, an overall system to extend the shelf life of milk without disturbing the retail coordinates and further to be able to ensure availability even in the remotest of the areas without having to spend towards cold chain is a real shot in the arm for milk brands and retailers.
"This will go a long way in reducing spoilage and wastage of milk. Uflex's ESL Aseptic Flexi-Pouch Machine is a promising product manufactured in our great country and I dedicate it to government's flagship scheme of 'Make in India' that my organisation supports and contributes to wholeheartedly."