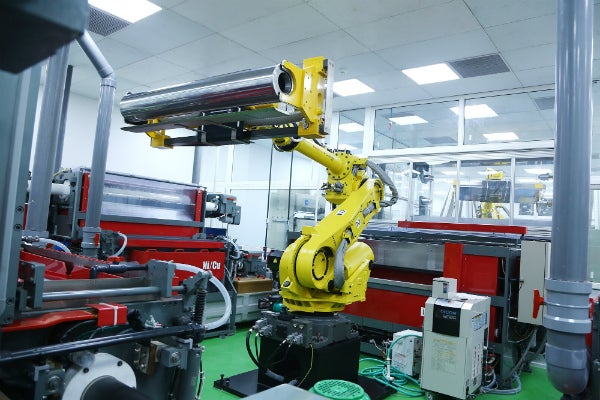 In the printing industry, precision and efficiency cannot be emphasized enough. In order to offer infallible printing consistency to its converting clients, India's largest global flexible packaging solution company Uflex Limited teamed-up with M/s Think Lab, Japan and set-up a Fully Automatic Robotic Laser Engraving Line for manufacturing rotogravure cylinders at the Noida facility in India.
The robotic laser engraving line has reduced the cumbersome process of manufacturing rotogravure printing cylinders to a single operator job. This automation however poses absolutely no threat to the current manpower as there exists a separate well contoured market segment for conventional electro-mechanically engraved, embossed, coated rotogravure printing cylinders much like the laser robotic plant engraved rotogravure cylinders.
While more than 200 cylinders are manufactured per day using the conventional process at Uflex, through the robotic laser engraving line spread in approximately 1/10th of the entire cylinder manufacturing shop floor area at Noida, a single operator can produce additional 60 cylinders per day.
Major advantages associated with the rotogravure cylinders manufactured on the fully automatic robotic laser engraving line are:
Consistency in printing for flexible packaging
More mileage from the cylinder
Less ink consumption during printing operation as compared to conventional electromechanical engraving
Production volumes have gone up from the erstwhile 180 cylinders per day to produce 240-250 cylinders
The cylinders produced are dynamically balanced and can run up to a speed of 500m/minute
High-definition image re-production capability of 6,400dpi, which is not attainable through the conventional electro-mechanical engraving process
Very less production space is required in comparison to the conventional process with similar production capacity
Requires less power, hence the running costs are low
Owing to the whole gamut of benefits that they bring, the rotogravure cylinders manufactured on the robotic laser engraving line are in great demand by converters and packaging companies catering to niche multi-national brands.
Expressing delight on this feat, Mr Ashok Chaturvedi, chairman and managing director, Uflex Limited said, "For this ambitious project we decided to partner with M/s Think Lab, Japan because of their unmatched technological finesse in gravure printing technology, which is globally acclaimed. It is a name that instils trust and confidence and thus serves to be a perfect strategic partner for Uflex for our cylinder manufacturing business.
"We are getting online real time service support and assistance from Think Lab, which is now completely dovetailed with our operations and ensures practically zero downtime. Our precision has improved manifold so has the production efficiency."