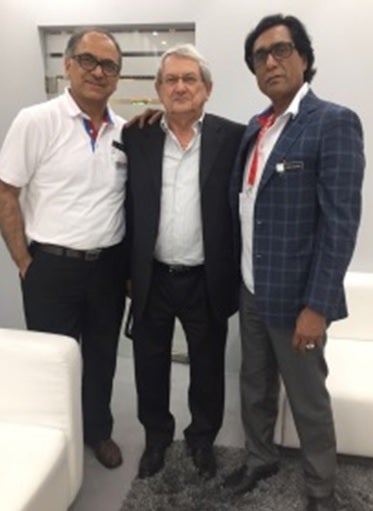 Italian firm Comiflex SRL has signed a contract with India's largest global flexible packaging solution company Uflex Limited, confirming its intent to manufacture Gearless C.I. Flexo Printing Machines under a technology transfer agreement. This happened at DRUPA, where Uflex is currently exhibiting.
The memorandum of understanding has already been signed between Mr Gianfranco Nespoli, owner of Comiflex SRL and Mr Ajay Tandon, president and CEO, engineering business, Uflex Limited. Uflex will market and sell these machines across the world.
With 50 years of enriching experience to his credit, Mr Gianfranco Nespoli, is a renowned exponent in the field of designing and producing high-quality C.I. Flexo Machines. Mr Nespoli is one of the founding members of Flexotecnica that was founded in 1979 in Galganano for manufacturing flexo printing presses for roll to roll printing on films and paper for packaging applications.
Expressing his pleasure, Mr Ashok Chaturvedi, chairman and managing director, Uflex Limited, who is currently attending DRUPA said: "We will be manufacturing Gearless C.I. Flexo Printing Machines in collaboration with Comiflex SRL at our engineering plant in India.
"I am glad that Uflex has partnered with one of the sharpest brains of the C.I. Flexo printing machine technology. Innovation to create value added differentiation is the guiding principle at Uflex and our engagement with Mr Gianfranco Nespoli's Comiflex SRL testifies it.
"This tie-up furthers the ethos and spirit of my government's flagship scheme Make in India."
Uflex is in Hall No. 15 at Stand No. C 51 from 31 May until 10 June.
---
Caption: L-R: Ajay Tandon, Gianfranco Nespoli, and Ashok Chaturvedi.