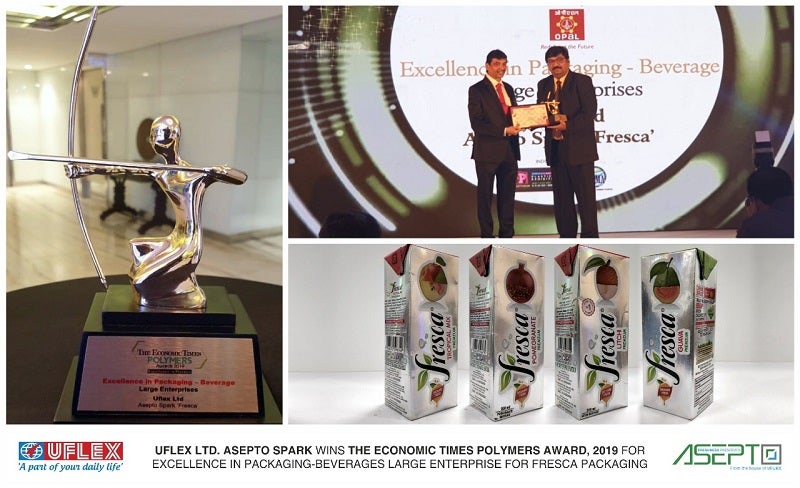 Continuing with its string of wins, Uflex Ltd has been recognised for innovative packaging in the category of Excellence in Packaging – Beverages (Large Enterprises) for Asepto Spark 'Fresca', at The Economic Times Polymers Awards 2019 held on 12 February 2019 in Mumbai.
The company won the award for Fresca packaging, the first holographic pack of the era. On receiving the award, Uflex Ltd president and CEO Ashwani Kumar Sharma said: "The idea of our packaging innovation was to enhance the shelf appeal, which was deprived in the printed cluster. Asepto Spark and Premium range filled that void and created a new horizon of packaging for brands to look forward to."
Uflex always inspired its customers to reimagine the packaging experience with Asepto's Spark and Premium range. "We are committed to creating innovative products and solutions for our customers around the globe, as our packaging innovation offers endless possibilities. This award certainly reinforces our belief that the unique and novel holographic packaging we created will change the outlook of aseptic liquid packaging market," Sharma added.
Asepto offers various holographic patterns for foils stamping and the multi-lens approach. Its strength lies in the backward integration strategy that the company has adopted to propel the innovative packaging venture. The company possesses the in-house capability to offer packaging solutions for premium-category products. Sharma further added, "We can customise designs for customers as per their standard specifications."
Expressing gratitude on this recognition, Uflex Ltd chairman and managing director Ashok Chaturvedi said: "Uflex's foundation has been on innovation, and earning this award reflects the acceptance of our packaging innovation in the Aseptic Liquid Packaging business. It's an element of pride for all members of the Uflex family who are associated with this. Until last year, the packaging industry lacked aesthetic rejuvenation for packaging solutions, but with the revolutionary value-added features of Asepto, we are changing the face of the industry. Uflex firmly believes that, in the next decade, packaging will transform the way the point of sale zones are being looked at in the India Beverage Industry."
Fresca, India's leading Beverage Company, which has been associated with Uflex for its aseptic packaging needs, decided to also add holographic features to its products, thereby giving its new variant a distinct identity and creating a niche space on the shelves.