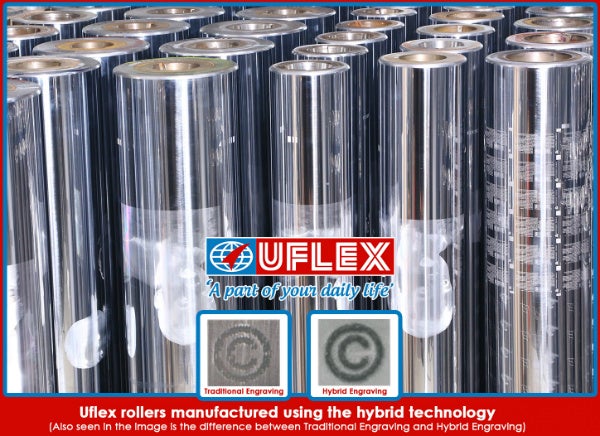 With top printing exhibition Drupa barely a month away, India's largest global flexible packaging solution company Uflex is abuzz with action as it prepares to display some of the most innovative and contemporary packaging and converting machines; anti-counterfeiting, brand protection; rotogravure and flexo printing solutions.
A not to be missed exhibit by the flexible packaging major will be its Hybrid Technology Electromechanically Engraved Cylinders. Uflex manufactures precisely engraved printing cylinders through its new 'Electromechanical Spectrum Engraving Line'.
In order to appreciate the new technology, it is imperative to first understand the conventional engraving process. Engraving the black process cylinder requires the use of a screen that prevents moiré with the other process colors. This screen doesn't always provide the best results for line work and text, however.
Making double-cuts is common with black cylinders, with the line work cut at a screen for good detail reproduction and process for moiré prevention. This slows down the production.
The Hybrid Engraving System offers the best of both the worlds, traditional engraving for CT and high-resolution engraving for line work, in a single pass. This enhances quality without reducing productivity.
The salient features of Uflex rollers manufactured using hybrid technology are:
Sharper text and micro text can be engraved simultaneously producing HD image with desired effects
Impact engraving up-to a depth of 80µ-100µ is attainable
High-speed engraving line produces 8,500 cells / second
Hybrid Engraving is of special interest to the security printing and anti-counterfeit market. Stamps and currency have special requirements, such as extremely fine detailing. Engraving those very fine lines is what hybrid engraving marvelously excels at
Drupa runs from 31 May until 10 June.
Uflex's expertise spans the entire spectrum of flexible packaging applications.