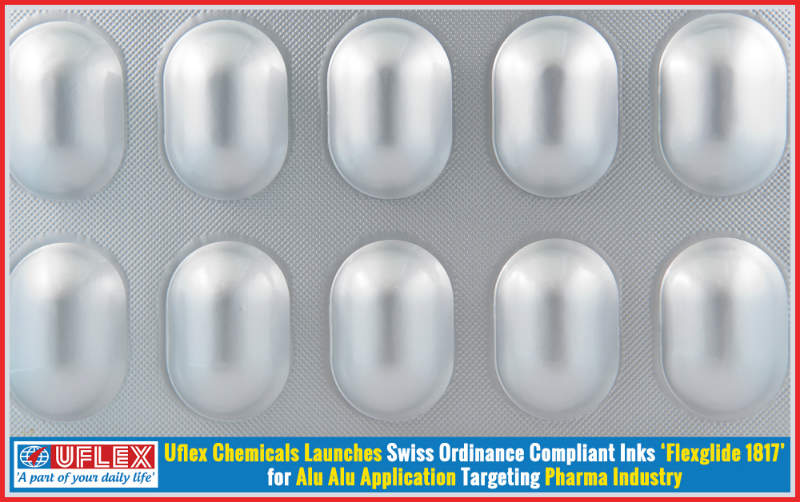 Uflex's Chemicals Business has launched a new polyurethane (PU)-based NTNK ink series 'Flexglide 1817' for Alu Alu blister packing for the pharmaceutical industry.
Alu Alu is a multi-layered structure designed for packaging of a sensitive range of pharmaceutical and generic medicines, which are highly hygroscopic and light sensitive in nature, by providing better protection and prevention against UV rays.
The Swiss Printing Inks Ordinance is a comprehensive piece of national legislation and standard for food packaging inks in Europe, regulating substances used in printing inks that are not intended to come into direct contact with food. Flexglide 1817 complies with the requirements for Alu Alu packaging. It exhibits adhesion and high bond strength. Being a low viscosity high-flow ink system, it is ideal for reduction of solvent consumption on both high and low-speed presses.
Flexglide 1817 will be catering to the special needs of Alu Alu packaging market as it meets the unique properties desired from inks. Alu Alu packaging protects packaged product against humidity and contamination especially those that tend to absorb moisture from the air. It also offers excellent adhesion on variety of substrates such as polyethylene terephthalate (PET), biaxially-oriented polypropylene (BOPP) or nylon, in addition to optimal solvent release, which helps in stopping sizzling air from entering the blister pockets, ensuring medicine efficacy. It is suitable for lamination with both solvent-less and solvent-based adhesives, as well as PE extrusion lamination.
Expressing his excitement over this new launch, Uflex Limited Chemicals Business joint president Rajesh Bhasin said: "We are committed to offer finest solutions to converting industry under one roof and this is another step in that direction. Our R&D team is completely geared up to meet distinctive requirements of converters and we shall continue to create finest solutions for the industry".
Focused on targeting the pharma industry in key markets globally, 'Flexglide 1817' is now available to customers. Fill out the enquiry form for more information.