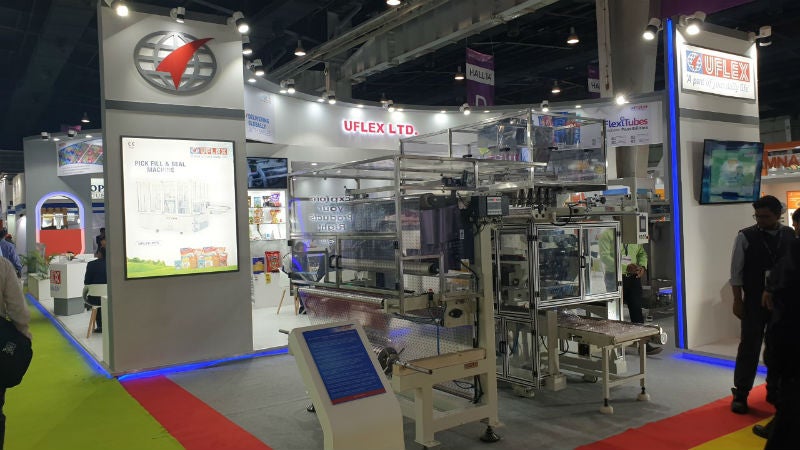 UFlex displayed a wide range of engineering, packaging, tubes and holographic material at the 2019 CPHI exhibition, which was held over three days from November 26 to 28.
CPHI holds a legacy of three decades where all discussions pertaining to the pharmaceutical industry are held and is attended by key delegates across the industry. At CPHI 2019, the businesses from the house of UFlex showcased their most revolutionary product offerings in the market that are making a noteworthy difference in the way pharmaceutical businesses are being run in India.
On the attention that the UFlex booth drew, the company's chairman and managing director Mr Ashok Chaturvedi said, "CPHI is widely used as a barometer of the pharma industry in India. Being one of the marquee platforms that brings together Indian and global brands on one stage, this mammoth expo helps in reflecting and enhancing the value of UFlex product offerings in various segments as well as pushing the prosperous pharma industry towards a brighter future".
In order to benefit the pharma businesses, well-being of the environment and the consumers' welfare UFlex has been constantly working in the engineering, research and development space. Below listed are the showcased products that were displayed at the exhibition this year.
Engineering Business
UFlex Multitrack Stick Pack Machine, Model Stick Pack 200 that was launched at CPHI, is a five-lane machine for packing powder, granules and paste at a speed of up to 250 sticks per minute. This machine can pack content in centre seal tubular shaped sachets ranging in weight from 1gm to 20 gm and is best used for pharma products that can be consumed in a single dose.
UFlex capabilities for uncompromised packaging were demonstrated at the CPHI 2019 through its Multi-track 4-side seal sachet packing machine Model MT1200. This machine is designed to pack powder in sachets at a speed of up to 1,000 packs per minute. This machine can pack four to five different types of powders simultaneously through its various tracks in different sachets.
UFlex Unit Dose Packing Machine Model FFS Unit Dose is designed to pack unit dose powder in sachets. This machine is designed to pack powder weighing 250mg to 10gm in three-side and four-side seal sachets. This machine is used by pharmaceutical formulation companies to pack very small quantities(less than 1gm in sachets).
The VNS Machine is designed to pack various pharmaceutical powders and granules in large quantity of up to 5 Kg. Most of the pharmaceutical API (Active Pharmaceutical Ingredient) units like Cipla, Dr. Reddy's Lab, Mylan, Lupin etc. are using multiple machines.
Packaging Business
UFlex' revolutionary Alu-Alu packaging comes with a special polyester film that replaces Nylon and PVC in conventional Cold Form Laminate while retaining Aluminum, making it an indigenous product since both PVC and BON have to be imported from other countries. For this unique development, UFlex had also been granted a United States Patent in 2018. Alu-Alu packaging provides sustainability and cost optimisation, giving it an edge over conventional Alu-Alu packaging. Keeping in mind the sustainability goals of pharma companies, this product witnessed a lot of queries from participating pharma companies, at the expo.
UFlex showcased its 20micron pin-hole free soft tempered foil. It contributes in providing higher yield gain of 28% leading to tremendous cost savings for Pharma companies. Offering excellent printing on matt finish with superior readability through multi-colour reverse printing design on Special PET film in Special PET/Foil/PE laminate; Fast Tear Strip Foil is produced in-house by UFlex to impart easy tearability of the laminate without any effort. The value addition of holography solution with latentogram imparts brand protection of the pack and maintains the same barrier properties when compared to that of conventional strip pack laminate.
Holography Business
The products displayed ranged from narrow web technologies like holograms, security seals, void holograms and self-adhesive labels which includes state-of-the-art unique features like lens and unigrams providing covert & overt security features. It also includes holographic product labels for syrup and carton packaging for pharma products.
The wide web holographic technologies on packaging materials that provides a good range of anti-counterfeit solutions for pharma products also drew visitors to UFlex booth. This includes materials like holographic PVC films for blister packs, Alu-Alu holographic foils for tablet packaging, holographic aluminium foils for pharma blister packs, with nearly uncopiable features providing a strong anti-counterfeit solution.
Another range shown at CPHI consists of Holographic Hot Stamping Foils for pharma cartons and labels, lamination films with customised holography for pharma cartons. Cognisant of need for sustainable pharma packaging, UFlex exhibited holographic paper and board for pharma cartons and labels (sans plastic components) that includes company's speciality of registered lens products on cartons and labels.
Tube Business
Typical requirements of the pharma industry include high barrier material for the tubes so that it can provide required shelf life to medicinal products packed inside and anti-counterfeit feature which prevents duplication. Lately, the pharma application has shown inclination towards better aesthetics of the tube in addition to the primary requirement of high barrier and anti-counterfeit features.
The move towards better aesthetics is driven by the upcoming segment of COSMOCEUTICALS and other skincare products, which can be made available over the counter at chemists and retail stores. The next phase of development in the pharma segment will be the use of tailor-made applicators to allow both ease of application and minimise the use of hand, giving no-mess application. All of these requirements is well served by FlexiTubes from UFlex, built on ABC fundamental of aesthetics, barrier and anti-counterfeit features. Aesthetics provided by FlexiTubes are unmatched in the industry and it is possible to provide same level of aesthetics in both ABL and PBL tubes.
FlexiTubes was displayed at CPHI that provides the advantage, to pharma companies, of:
Reverse rotogravure printing process for true aesthetics and allows 360° printing
Gloss and matte surface finish is possible through the film itself replacing messy matte coating on the tube surface
Possibility of decoration effects like total metallic tubes, registered metallic effects, holographic patterns, premium matte finish, metallic matte finish, pearlised effects and 3D look through multiple lens
FlexiTubes allows use of different barrier layers like EVOH, Nylon, SiOX2 and combination of any two or more of them. The barrier properties can be designed specific to the product requirement and also the structure, laminate thickness designed specific for the product
Anti-counterfeit features arresting the problem of duplication
FlexiTubes provide excellent bounce-back properties even for the ABL tubes maintaining the fresh look of the tubes even after the use.