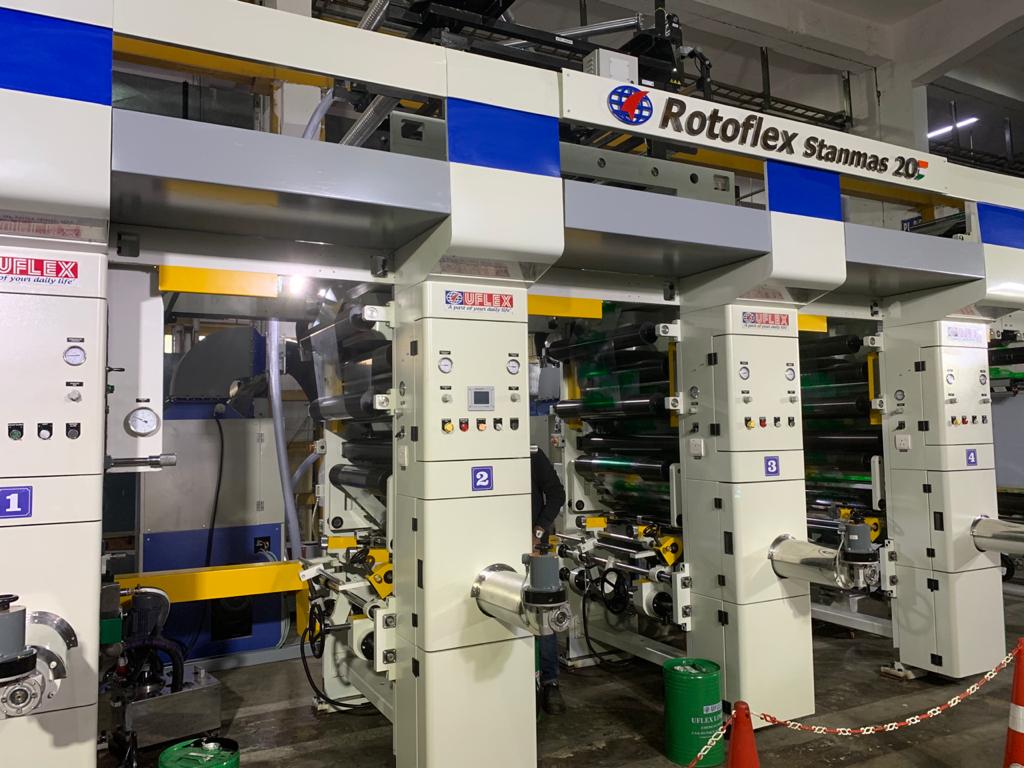 UFlex conducted an open house for the live demonstration of its new engineering innovation, a special purpose four-colour rotogravure printing machine named 'Rotoflex Stanmas 20', designed especially for printing on aluminium foil.
Held at its manufacturing plant in Noida, the open house witnessed interested customers from Central Asian countries such as Uzbekistan, Armenia, Turkey, Turkmenistan, Kyrgyzstan, Kazakhstan and also a leading flexible packaging convertor from Bangladesh Kalyar Replica, to whom the machine will be supplied for pharma packaging.
Rotoflex Stanmas 20 further strengthens the portfolio of rotogravure printing machines that UFlex already offers, with eight variants in it. A single machine that can be used for printing multiple substrates, the latest variant of the press can print on aluminium foil, as well as other substrates spread over polymer family and paper.
The ideal printing speed on the machine is 150 meters per minute for aluminium foil, while other substrates can run up to 200 meters per minute. The press, which prints with solvent-based inks, also comes affixed with the unique feature of an electrical heating system, unlike the usually seen heating system of hot air generator or thermal oil. It thereby helps in quick start-ups of operations.
UFlex has developed the machine with technical inputs from MRG Grafomac of Italy and its in-house design team. The machine can be made available to suit varying budgets.
During the open house, Mr Sanjay Malik Sabharwal, executive vice-president of UFlex Engineering Business said, "RotoflexStanmas20 is a highly sophisticated machine by UFlex, making us the pioneer in manufacturing of this special purpose gravure machine for aluminium foil printing, which is otherwise a difficult task.
"This machine addresses the issue of aluminium foil brittleness, by special adjustments to ensure that the press is better equipped to handle the foil so as to ensure no breakage while moving from one station to another.
"Keeping in mind the need to reduce the use of nylon in blister packaging for obvious reasons, this machine will cater to the high-growth pharmaceutical market, especially blister packaging and also open new avenues in lidding for UFlex. With best-in-class technology at our disposal and some of the sharpest brains at our side, we are confident of taking this printing packaging machine to the global platform."
Suitable for narrow web application, Rotoflex Stanmas 20 is a mechanical line shaft that specialises in printing on aluminium foil of varying thickness. While the trial printing for the open house was conducted on eight microns of aluminium, the machine has the capability to print aluminium foil of a wide range of thicknesses, depending on the requirement. Likewise, the colour configuration of Rotoflex Stanmas 20 can stretch to eight colours.
For more information please fill out the enquiry form.