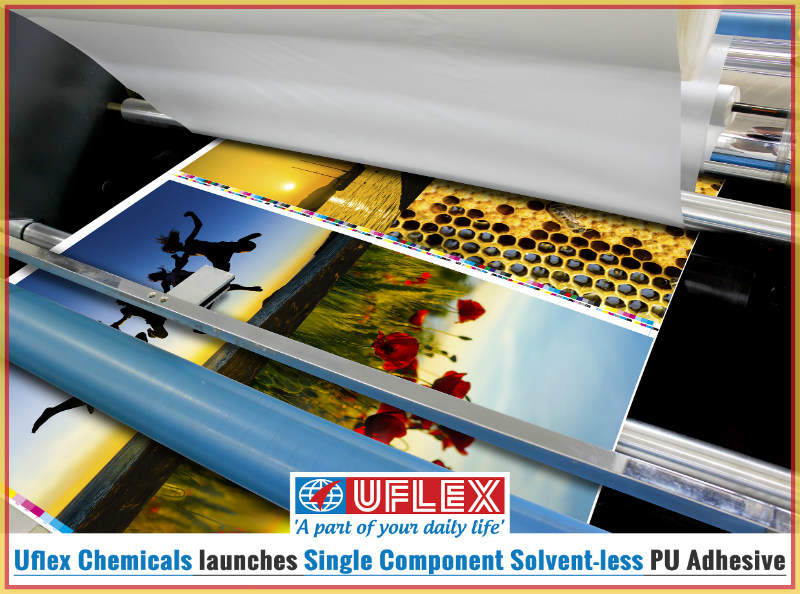 Uflex's chemicals business has launched a general performance, single component solvent-less PU adhesive, FLEXBON OC512.
Setting sight on newer geographies within the domestic market, this new addition will help Uflex gain a toe-hold in the offset mono-carton industry. This product enjoys a strong demand across the Indian Market.
This moisture-curing adhesive is designed for laminating film with printed and un-printed board or paper, with an average coating weight of 3gsm to 5 gsm (depending upon the thickness of the board).
Given the viscous nature of FLEXBON OC512 at room temperature, it is heated at 80°C-100°C and pumped through a dispenser. This adhesive works well on solvent-less laminating machines having smooth rollers.
As demand for folding cartons remains encouragingly strong, this new product by Uflex will immensely benefit the FMCG industry. Besides myriad functional properties of Cartons, brand owners try making the most of the secondary packaging to effectively communicate with trade/channel partners through eloquently colourful designs and attractive messaging.
Uflex's Chemicals Business is a leading provider of adhesives, printing inks, coatings and polyols for packaging and other applications.
About Uflex Chemicals Business
Incorporated in 1993 and headquartered in Noida (Uttar Pradesh – India), Uflex Ltd's Chemicals Business is a leading supplier of Inks, Adhesives and Speciality Coatings. It stands amongst top 20 Ink producers, globally (Ink World; August 2017).
The business operates through two plants i.e. Noida and Jammu and serves a wide array of Indian and International clients with the help of agile marketing, R&D and application teams.
The R&D Centre recogniaed by The Department of Science and Technology, Government of India and accredited with NABL certification is equipped with most modern instrument promising new customized product development and prompt on-site customer support.
Uflex's Chemicals Business is a complete solution provider for flexible packaging industry i.e. for printing, lamination and coating needs of packaging.