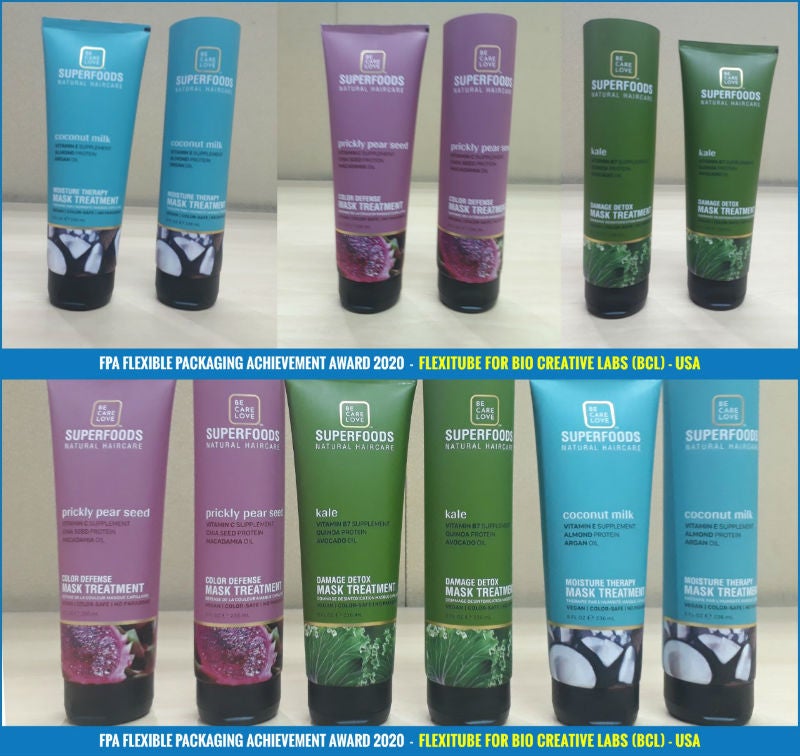 India's largest multinational flexible packaging company and a global player in polymer sciences, UFlex, was recognised with six awards, including three golds and three silvers at the prestigious Flexible Packaging Awards 2020 in the US yesterday. The event was hosted by the Flexible Packaging Association (FPA). The Flexible Packaging Achievement Awards competition is among the most coveted in the industry thanks to the outstanding calibre of packaging entries it receives each year, the objective and methodical judging process. The awards were concluded with 73 different participants who nominated their hero innovations.
Anantshree Chaturvedi, vice-chairman and CEO of FlexFilms International said, "We are excited to have won these awards and are thankful to FPA for providing a platform that celebrates the hard work sowed by our behind-the-scenes R&D team, which builds path-breaking technologies and products that address our customers' needs. As a responsible corporation, we continually strive for excellence in creating better technologies that help to save our planet, while strengthening our core competencies and paving way for our future growth potential."
UFlex has won the awards in the following categories at Flexible Packaging Achievement Awards 2020:
Gold Award – Shelf Impact – 4D Bags with Handle
Silver Award – Sustainability – Flex Asclepius™ PCR Based BOPET Films
Silver Award – Shelf Impact – FLEXPET™ F-STF Ultra Soft Super Durable BOPET Film
Gold Award – Packaging Excellence – FlexiTube for Bio Creative Labs (US)
Silver Award – Technical Innovation – FlexiTube for Bio Creative Labs (US)
Gold Award – Expanding the Use of Flexible Packaging – FlexiTube for Bio Creative Labs (US)
Let us help you understand our products that won at FPA:
4D Bags with Handle
With 4D Bags, UFlex has developed a pack that has the best of both worlds. It is a brick-shaped all panel registered bag / pouch with a handle and reclosable option, which can stand or lie on the belly. It works like flexi-cartons and is an excellent carton replacement product. The stand-ability and shelf prominence of rigid is combined with functionality of flexibles in this innovative 4D Pack. All six panels of the bag are printed and can be made of different substrates. The look of the bag creates an excellent shelf appeal, helping it catch the immediate attention of the end-user. For convenience, the bag can be carried from a top handle, while its reclosable option allows easy dispensing of the product through the zipper. The bag adds a fourth dimension to the product, making it a unique four-side flat flexible packaging that offers lustre and barrier properties of the film, on one hand, and a prominent carton like display, on the other. UFlex's 4D Bags with Handle has proved to be an exciting opportunity to revitalise the product and an ideal packaging solution for granular products like rice, coffee, tea, detergents, pet food etc.
FlexiTube for Bio Creative Labs US
The three variants of Super Foods Natural Hair Care FlexiTubes for Bio Creative Labs were conceived by UFlex on the unique ABC approach applied by FlexiTubes. These tubes provide 360° printing with a soft matte finish and excellent reproduction of graphic images. The gold metallic lines on the tubes are created with the use of holographic layer, thus eliminating the use of the foil stamping process. FlexiTubes makes use of reverse printing through the rotogravure process that gives true to life pictures on the tube.
FlexiTube is based on the fundamentals of ABC:
A (Aesthetics): Reverse printing and rotogravure process opens up a lot of options for graphic designers and enables out-of-box thinking. In addition, use of matte films and holographic layer further adds aesthetic aspect of the tube.
B (Barrier): Since the process involves printing operation to be done first followed by lamination, the barrier can be customised to the product's requirement and this also allows use of various barrier films as standalone or in various combinations.
C (Anti-Counterfeit): Many features like holographic patterns, security strip, multiple lens, Fresnel lens are in-built into the tube's structure, making it
virtually impossible to duplicate.
Flex Asclepius™ PCR Based BOPET Films
As part of its commitment towards sustainability, FlexFilms offers an entire range of PCR grade film having up to 90% post-consumer recycled PET content under the brand name Asclepius™. FlexFilms' Asclepius™ film technology is a family of plain, treated, coated, high barrier and heat-sealable BOPET films based on 90% PCR polymer content.
This film represents a 75% reduction in carbon footprint versus virgin BOPET grades and has the same properties as its twin substrate derived from fossil fuel. This film made out of PCR content is put to use in labels and packaging, thus creating a circular economy. This is the only 90% PCR BOPET film that has received the prestigious 'Kingfisher' Certification from SCS Global Services that certifies that FlexFilms' PCR grade films contains minimum 90% post-consumer recycled PET content.
FLEXPET™ F-STF Ultra Soft Super Durable BOPET Film
The soft-touch film BOPET Film exhibits exceptional scratch, heat and scuff resistance, giving a unique and luxurious feel.  The surface is self-healing from most scuffing and is optimally durable. F-STF film exhibits low gloss, excellent matte homogeneity with high haze (>90%) and very high contact (see-through) clarity. This implies that the film can be readily reverse printed by convertors to impart deep and rich graphic images. This film is FDA compliant for a range of uses making it further unique. Since its launch, it has found use in luxury brand packaging, decorative packaging, labelling, graphic advertising banners, and high-end stationery products among others.