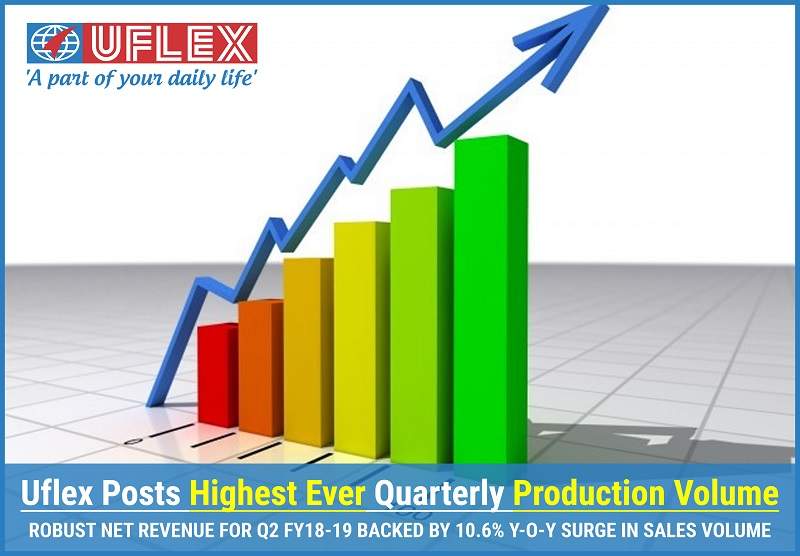 Uflex Limited reported a 10.6% increase in overall sales volume on a year-on-year basis, achieving the highest ever consolidated net revenue of Rs2,020.8 crore for the quarter ending 30 September 2018.
The consolidated net revenues showed a jump of 26% from INR 1603.8 crore in the same quarter last fiscal. Uflex also achieved the highest ever quarterly total production volume of 102442 MT.
The consolidated EBITDA for Q2FY18-19 increased by almost 12% Y-O-Y to INR 264.6 crore from INR 236.5 crore. The consolidated net profit for Q2FY18-19 at INR 95.7 crores was higher by 1.5% Y-OY.
Commenting on the earnings, Uflex Limited Group CFO Rajesh Bhatia said: "In the flexible packaging industry, a reliable indicator of growth is volume which conspicuously reflects the demand of the company's products. The overall sales volume grew by 10.4% to 79992 MT for Packaging Films and 11.6% to 21089 MT for Packaging in Q2FY 2018-19 on a year-on-year basis."
Eflex Limited chairman and managing director Ashok Chaturvedi said: "During the first half of Financial Year 2018-19, we continued to focus on our growth through new product innovation and developing sustainable solutions for our customer network across the world.
"Uflex's path-breaking innovation Waterless Internet Flower Packaging walked away with top honours at the Sustainability Award 2018 and Dow's 2018 30th Awards for Packaging Innovation.
"These awards are a reaffirmation of our efforts in optimising sustainability footprint and business performance standards to deliver the highest levels of quality to our customers since sustainable development is the real pathway to the future we want for all.
"This quarter also saw the launch of FlexFilms' e-commerce website by Flex-BuzzR which will make a complete range of film offerings from our active production site in Poland available to customers in European Region, at a click of a button. This B2B platform has been launched with the intent to supplement Flex Films existing brick-and-mortar business model."