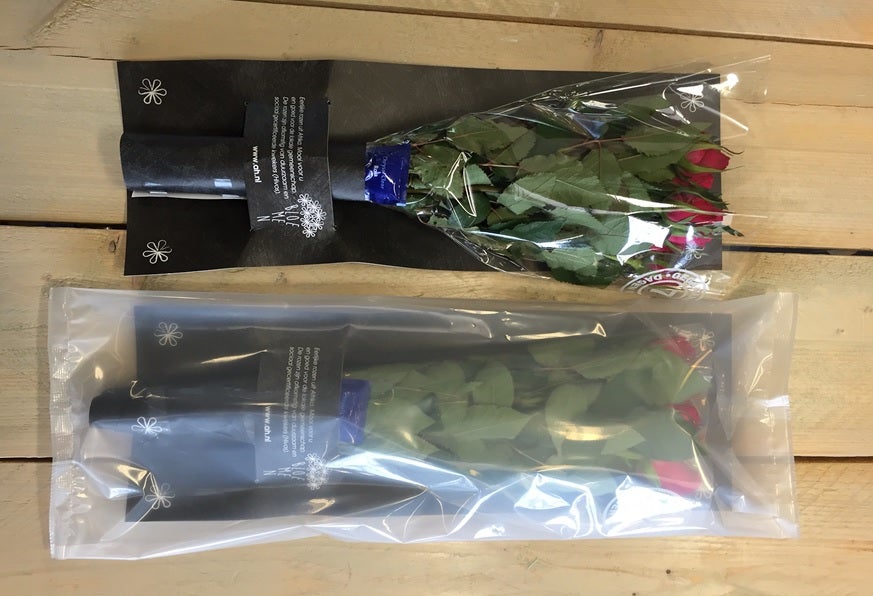 Netherlands based shelf-life extension technology company PerfoTec has introduced a ground breaking packaging solution for flowers, that will make the use of water in the supply chain redundant.
Explaining the technology, Bas Groeneweg, director of PerfoTec, explained that the shelf-life of flowers can be extended using the AMAP (Active Modified Atmospheric Packaging) technology, where it has already a very major presence globally in fresh fruits and vegetables markets.
However, the humidity inside the packaging of flowers during transport can create diseases such as Botrytis, which was the great challenge. This was when Uflex Ltd, India's largest global flexible packaging solutions company bought Perfotec Systems for India while it was facing similar issues with mangoes due to the tropical nature of the produce.
Ashok Chaturvedi, chairman and managing director, Uflex Ltd, was happy to accept the challenge and the team at Uflex developed a new Biodegradable film Flexfresh™, which could keep the product breathing in hydrated oxygen and release excess humidity keeping the flowers dry.
Using Perfotec's Fast Respiration Meter, the Oxygen demand of flowers is measured and using a patented laser technology makes micro perforation on Flexfresh™ film to allow enough oxygen for the flowers to stay alive and prevent them from excess oxidation. The flowers are 'put to sleep' so to speak and can go without water for five days as the humidity is fed back in to the flower when it continues to breathe. Once the package is received by the customer and opened, the bouquet remains fresh in a vase for at least a guaranteed seven days.
The technology was demonstrated to the largest flower organization in the world, Dutch Flower Group (DFG). It was extremely happy to see the results of the new technology. One of DFG's retail clients is the first launching partner and has now successfully integrated flowers in to their grocery home delivery service, without the hassle of using water and cooling facilities.
Another early adaptor in the market is internet flower startup BloomPost that delivers flowers throughout Europe without the use of water. Van Stijn, CEO of Bloompost, says that he is excited about the opportunities that the new offering has created. He sees major e-commerce companies and retailers around the world embrace this technology to bring enormous savings.
He adds that he is visualising an instore display without water and cooling and web shops can send flowers by mail without having to worry about poor quality upon arrival. His company Bloompost is the first internet flower business in the world that is using the new technology.
This global partnership between Uflex and PerfoTec has now demonstrated a technology which can offer guaranteed shelf-life extension, lower logistics cost, overall reduction in carbon footprint and better product to the final consumer, states Siva Shankaran, vice-president – Flexfresh™, Uflex.
"This new solution is available for fresh flowers from grower to market in bulk liner bags, retail packs and also for Internet Deliveries covering the entire market requirements," adds Andrew Sharp, international business director, Perfotec BV.
Ashok Chaturvedi further says: "This new path breaking innovation by Uflex ensures that the film is compostable, giving a responsible packaging solution to the entire fresh produce supply chain and millions of gallons of water currently used in the flower supply chain is clearly eliminated thereby making it one of the most sustainable packaging solutions."
Uflex has offered this film to PerfoTec exclusively for Europe, Americas and Africa, which are the major market for Perfotec's customers. Bas Groeneweg adds that the Industry launch of this new packaging solution for flowers will be done at the United Fresh Show, which will be held in Chicago from 20-22 June 2016.