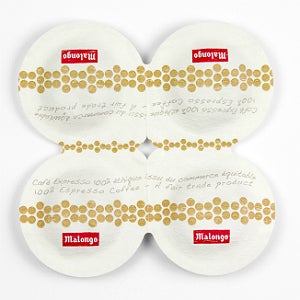 Malongo Coffee supplies the world's coffee lovers with fair trade coffee and eco-coffee. Korsnäs supplies the packaging industry with climate-smart, paper-based packaging material. Together they are now launching environmentally responsible coffee pods for Malongo.
"Coffee is an extremely sensitive product, and in order to create that perfect cup the product needs to be protected to keep the aromas in and any contamination out," says Olivier Lamouche, purchasing manager at Malongo. "We began working closely with our long-standing partner Korsnäs to come up with a solution that would satisfy our strict demands in terms of protecting both the coffee and the environment."
"The coffee market is constantly getting more and more sophisticated in terms of taste, consumer demands and appliances," says Christophe Delrive, end-user manager at Korsnäs. "As consumption grows, waste can become an issue that must be addressed. With the introduction of Malongo's new pods and capsules, plastic waste is a thing of the past. The new pods are degradable and thus totally harmless when discarded."
By virtue of this packaging, the 1,2,3 Spresso® pod by Malongo is in fact the very first pod on the market which is entirely recyclable and degradable. High ethical standards and environmental awareness are cornerstones of Malongo's business philosophy. For example, the company has a strict sustainable development policy which includes eco-design and fair trade.
"Flexibility is key to product development," says Rolf Gustafsson, business manager paper Korsnäs. "At Korsnäs, we take pains to be responsive to customer needs. In this particular project, the starting point was a specific customer need which had to be resolved. Feedback is absolutely critical to the success of a project like this, and it really demonstrated the importance of listening to all the customers in the chain and working in very close cooperation with them. This reminds us that we must always take a long-term view and be patient and committed, and eventually we will always find a solution."
The new pods are made of 100% virgin wood fibre. The innovation was made possible due to close cooperation between several parties in the value chain:
• Malongo Coffee, owner of the coffee brand
• Korsnäs, supplier of the paper material
• Walki, converter and developer of the barrier
• Multivac, the machine manufacturer
The development work resulted in a new application for Korsnäs Wave, a material which is otherwise very popular in the fashion segment. It is a strong material with a special wavy surface texture, perfect for upmarket shopping bags. It is also highly elastic and extremely formable, which makes it suitable for moulding into pods.
"Our broad product portfolio includes a number of very specialised materials," explains Rolf Gustafsson. "The Malongo concept makes use of both Korsnäs White, our finest cartonboard product, and Korsnäs Wave, our formable kraftpaper product."
Korsnäs Wave in brief:
• White kraft paper
• Creped surface structure
• Made of 100% virgin fibres
• Strong, stiff and elastic
• Excellent results for colour printing in flexo and offset
• Available in 120, 140, 150, 160 and 200 gsm
• Available with FSC label
• Approved for direct contact with food
• The most common applications include shopping bags, gift packs, exclusive consumer packs and substitutions for plastic
• Made at Korsnäs mill in Gävle, Sweden