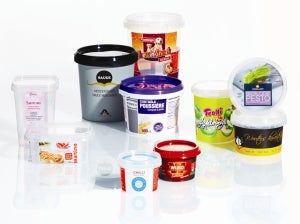 With 35 years of experience, Deca has earned a unique place in the packaging industry and has certainly found its position as a packaging and equipment supplier to mid-size food producers in Europe. But now, according to director Patrik De Cat, it is ready to target the larger companies. The Belgium-based operation runs three operating units – Decatechnic, Decapac and Decanova – and offers a wide choice of packing machinery, plastic packaging and luxury tins.
"We have recently bought some land and are working on a new factory. Work started beginning of 2012 and we would like to see it operational by the end of 2013," he said. "This will help us to widen our position in Western Europe and start targeting the larger companies."
Mr De Cat explained that the company started back in 1978 as a wholesale company in packaging for the food industry. "At the beginning we worked mainly in glass jars and twist off closures. Then the business moved further year by year into plastics packaging for food industry. The focus changed, and although glass jars and twist off closures remained important we became a more important player in plastics."
High-quality packaging
Decapac is the engineering and manufacturing division for plastic containers. With more than 20 years' experience in injection moulding and a constantly increasing quality in decoration, it places itself with a select group of firms that deliver high-quality packaging.
In addition to the plastic packaging, the division offers a large choice of sealing films and 'pre-cut sealing lids' available for temperature-resistant packaging. "We have all our production and warehousing on one site," explained Mr De Cat. "Our key markets are our neighbours – the Netherlands, France, Germany and the UK – although we do export to Spain, Switzerland, Austria and Scandinavia as well. We even export to Australia…"
"The aim with the €15m expansion is also to push forward in terms of innovation and development. "Our aim is always to reduce the weight of packaging for our customers, to make walls as thin as possible," he said.
The new production facility will be built with the latest construction and energy technologies to have an almost neutral energy-consumption building as aresult.
Innovative products
Investment in IML solutions is ongoing, as is investment in improving environmental impact and driving down costs. One recent innovation, for example, has seen Decapac launch its 'Easy Saving ' line of ribbed MAP (modified atmosphere packaging) trays in more than 60 different sizes. With thin walls, these have a particularly favourable price level, are suitable for microwave and are available in different colours (by special order). They can also come with a barrier (ethylene vinyl alcohol) and are 'destackable' for automatic processing.
Looking for growth
Today Deca has an annual turnover of approximately €25m and employs some 47 people. The aim is to expand its offering, improve its flexible IML solutions, to push out towards larger customers and even to enter new markets, summed up Mr De Cat. "I think our target for the ten years is to see the company grow by about 5% to 10% every year," he said. "We are working within the sector of food packaging but with the technologies we have, we do believe there is scope to go a little wider than that, and perhaps to try to find turnover from other industries.
"The standards are extremely high for the food industry, and we have the technologies and equipment here that might be transferrable. We see a lot of potential for development and our planned expansion of our manufacturing site will certainly help."