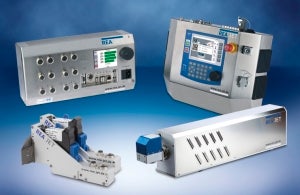 REA JET presents a new generation of coding and marking systems. The technology presented at this year's Interpack meets all requirements of the packaging industry in terms of integration, communication, environmentalism and user-friendliness. It simplifies cross-system networking and also takes into account global specifications.
Intelligent interface management accelerates system start-up and configuration. Coupling with other system components, such as production master computers, cameras and unloading and sorting systems, allows track-and-trace applications, gaming applications and 100% in-line quality assurance.
REA JET systems can be remote-controlled, parameterised and monitored by a standard web browser over the internet or intranet. This is an important requirement for Industry 4.0. This operation is secured by a user administration tool. No external software is required for remote-operation.
"Intelligent interface management accelerates system start-up and configuration."
The cross-technology, user-friendly operating concept for laser and high-resolution ink jet systems can be controlled by touch-operation. REA JET coding and marking systems offer Unicode-based communication with UTF-8 support. This feature is another requirement to meet Industry 4.0 demands for data exchange between devices without further adjustment.
REA JET emphasises its expertise in the pharmaceutical sector with an in-house developed PharmaScan App, which is offered for free. The App decodes barcodes and DataMatrix codes, especially on pharmaceutical packages, and is available for iOS and Android mobile devices. The quality inspection of codes is the main area of expertise for REA VERIFIER.