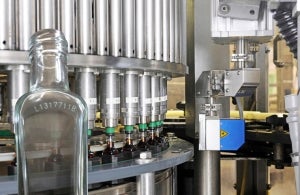 Kuemmerling is Germany's number one in the small bottle segment. The semi-bitter herb liqueur enjoys a brand awareness of 85% and a success story lasting 90 years. While the beverage recipe has remained unchanged, the production is constantly modernised. Recently, REA JET laser and inkjet systems were integrated into the production lines.
Kuemmerling's main factory in Bodenheim bei Mainz also produces various spirits brands of the Henkell & Co. group, such as Fürst Bismarck and Jacobi 1880. The fully automated production operation complies with all ISO standards and is IFS-certified. The bottles and packaging boxes are marked with REA JET systems for quality control purposes.
For marking the typical Kuemmerling miniature bottles, the newest CO2-laser REA JET CL system was integrated in a Krones bottle-filling line thanks to the system's slim design. The labelling system, which was specially developed for operation in a humid environment, marks an impressive rate of 36,000 bottles per hour with the batch identification.
Other maintenance-free REA JET systems were installed at Kuemmerling for marking packaging boxes. They replaced pieso technology-based devices that were costly to maintain and environmentally harmful. In addition, the quality of the imprints was not satisfactory and no variation of the print height was possible.
"These systems are maintenance-free and cost-efficient."
Now the cardboard boxes are marked with high resolution and without contact by using REA JET HR inject-printers. These systems are maintenance-free and cost-efficient. Print height of up to 50.8mm is possible at a speed of up to 300m/min.
As a full-service supplier, REA JET can deliver hardware, software and consumables, which means the implementation of client-specific solutions. The modular nature of the devices enables flexible adaptation for very different requirements. Kuemmerling benefits from a range of perfectly harmonised products from a single source.
Innovation is important at Kuemmerling. The fresh appearance of the successful brand is accompanied by the continuous modernisation of production. With the upgrading of marking technology by the specialists at REA JET, a further step in a successful future has been taken.