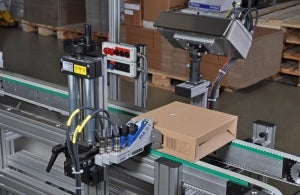 REA JET offers a wide portfolio of contact-free industrial coding and marking solutions for packaging. REA has been in business for more than 30 years and is active in many areas. Apart from making a name for itself in the area of cashless payment systems in Germany, the company's biggest investments have been made in the area of REA JET and REA Verifier. REA is proud to be able to provide 300 highly qualified jobs.
REA Elektronik managing director Michael Neuschäfer said: "We are in a position to offer our customers the right system for low and high-resolution print jobs, but also labelling systems, as well as systems for surface treatments from one source. On top of that, with REA Verifier we also produce measurement equipment for quality control of machine readable codes, so we can offer extra value to our customers who print barcodes and multi-dimensional codes on packaging and products."
Focusing on keeping the entire supply chain in-house and concentrating on long-term partnerships has paid off for REA, as Mr Neuschäfer explains: "We develop, produce and distribute the products from our site in Germany. We train our distribution partners here and thus keep flexible in order to be able to cater for concrete customer wishes. We only have to cover short distances, our employees are highly skilled and therefore we are often that bit faster and more flexible when it comes to implementing customer needs, which makes us more customer-oriented. More and more happy customers thank us for that."
"We want to continue to be a provider of exceptional technology, made in Germany."
REA has modern state-of-the-art production and R&D sites at its headquarters in Mühltal, explains Mr Neuschäfer: "Just recently we expanded our development and production capacities. A new building on an area of 5,000m² was recently completed and it will serve as a training centre and conference facility for our distribution team. However, it is important to us to not just grow at all cost. We want to remain at a healthy size in order to not over-complicate procedures unnecessarily. Direct contact with the customer has to remain the central focus of our actions in order to avoid just thinking of our business in terms of quarters and turnovers. We want to continue to be a provider of exceptional technology, made in Germany."
Using a network of trusted, long-standing, mostly local suppliers with production sites as close to the factory as possible, REA is able to cover short distances efficiently. Mr Neuschäfer explains: "We are working on expanding our global distribution structures, in order to be able to provide our customers with contacts and support on-location. Our production depth in-house is comparatively high and we are very proud of this fact, especially since we are a typical owner-led medium-sized company, unlike some of our competitors.
"There are certainly many more innovations to come in the future, especially in the field of marking technology, and we have a major development team working intensively in that area. We look ahead to the future with optimism, as a constant change requires the kind of technologies we are able to provide."