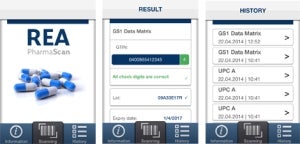 As of now, REA Elektronik offers to all smartphone users an efficient and free tool for decryption of 2D codes on medicinal product packages. One-dimensional codes (barcodes) and QR codes are also decoded.
The introduction of individual serial numbers for prescription medications was implemented under the EU Directive 2011/62/EU. The REA PharmaScan App recognises PPN codes, which are assigned by the organisations IFA and EFPIA for serialisation purposes (GS1 NTIN, GS1 GTIN, IFA PPN). QR codes and DataMatrix codes containing GTIN or NTIN in accordance with the GS1 standard are also captured. Pharmacological imitations can be identified in the case of printed codes that do not correspond to any validated code logic.
The App checks the symbol by taking into account the EFPIA and Securpharm specifications, translates the content in plain text and identifies any errors in the data structure. In this way, it is possible not only to exercise control over non-company codes but also to perform a simple check of the company codes for their correct encryption. All scanning results are stored chronologically in a history file. The code types are designated by their names; crude data without a control character are presented under "Code Content".
Application areas include:
"Pharmacological imitations can be identified in the case of printed codes that do not correspond to any validated code logic."

For decrypting code contents for private clients of pharmaceutical products
In the creation of layouts for primary and secondary packages
During work preparation processes in configuring production orders
In quality assurance for random control checks
For pharmacies and government authorities performing simple comparisons
For print shops performing control of the proofs