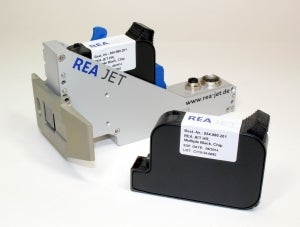 At this year's Interpack, REA JET presented the new multiple black ink, which opens up many new possibilities for industrial product identification. The fast-drying black solvent-based ink is ideal for coding and marking of non-porous coated or high-gloss surfaces. The drying time is a fraction of a second without any additional treatment. This fade-resistant ink is instantly smear- and waterproof. The excellent adhesion properties at extremely short drying time results in increased production speed, ultimately leading to higher productivity in the plant.
The ink has been developed by HP particularly for use on films and coated carton boxes. In combination with the thermal inkjet coder REA JET HR, this outstanding ink is a real alternative to continuous inkjet systems. It offers excellent print quality with a resolution of up to 600dpi. The high optical density, brilliant blackness and excellent contrast make the ink ideal for product marking with 1D and 2D codes, which is a requirement in many industries for tracking and tracing purposes.
"It offers excellent print quality with a resolution of up to 600dpi."
Because the ink cartridge has an integrated nozzle unit, which is replaced with each cartridge change, it is completely maintenance-free. In addition, the ink shows excellent starting behaviour, even after the cartridge has been open for more than 20h. This means the REA JET HR is immediately ready to use at the start of production on the following day.
The contact-free, highly efficient, absolutely clean REA JET HR marks the product surfaces in high resolution. This is particularly important when printing 1D and 2D codes, complex logos and any available variety of True Type fonts for all kinds of languages. The very compact REA JET HR print heads can also be integrated into existing production lines when space is limited. The modular design makes the system reliable for a large scale of industrial printing applications.