Agfa Graphics offers integrated prepress and digital printing solutions to the folding carton, flexible packaging, labelling and POS market segments. With :M-Press Tiger, :Dotrix Modular and the :Anapurna range of UV curable presses Agfa Graphics is rapidly expanding its offerings in the growing digital inkjet market to develop comprehensive digital (UV curable) solutions for printing posters, banners, signage, displays, labels and packaging materials.
UV curable inkjet press
The :Dotrix Modular UV curable inkjet press is a 65cm wide multifunctional, all-in-one printing press that brings all the advantages of both digital and traditional printing to the packaging industry. It provides an armoury of powerful tools for brand owners to reduce time-to-market, reduce waste significantly, respond to last minute design changes, and introduce flexibility and cost-efficient digital printing with 'near' off-set quality.
Cost efficiency (no more cylinders, plates or film) and flexibility (variable and personalised print jobs) are key to this six-colour, state-of-the-art UV single pass high production printing press.
Six-colour UV curable inkjet press
:Dotrix Modular prints with six colours: CMYK and orange and violet (as optional colour bars). This enables it to match 90% of all pantone colours and numerous spot colours, giving a huge range of design and print possibilities.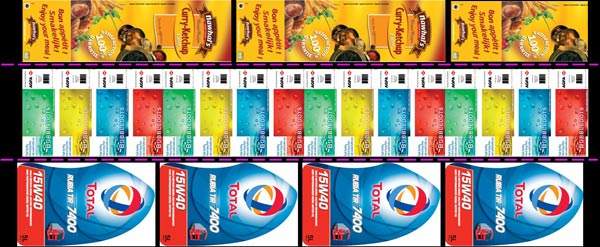 With the split web job function you print multiple jobs of different sizes and lengths in one run.

With the print-to-pack function you can print according to the needs of one customer.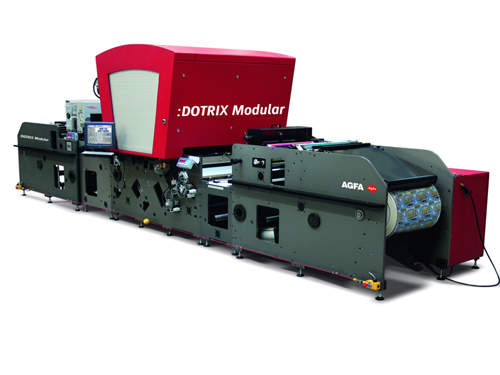 The :Dotrix Modular UV curable inkjet press brings digital advantages to the packaging market.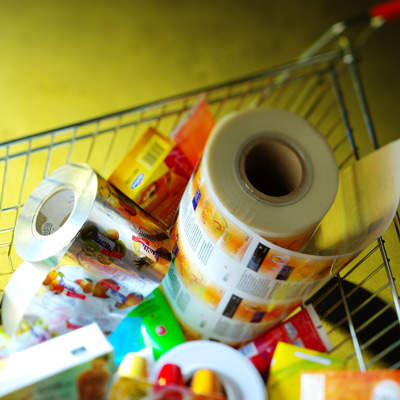 The :Dotrix Modular digital printing press prints on roll material from 20µm flexible foils over self-adhesives, to folding carton of up to 600µm.
Flexo stations can be mounted to add coating, varnish or spot colours to give an extra touch of attraction to your packaging. It also gives your packaging a consistent quality from the first print to the last.
Digital printing press with variable and personalised printing
Since :Dotrix Modular is a digital printing press it comes with the functionalities of variable and personalised printing. It also opens up more possibilities for special campaigns for brand owners. The Agfa Graphics-developed software VIBE enables our clients to offer their customers a wider range of services.
:Dotrix Modular also adds a print-to-pack function (print according to need) and a split web job (print multiple jobs of different sizes and lengths in one run) opportunity. Switching from one job to another happens literally in seconds, so rush jobs will not pose any problem and deadlines will be easier to meet.
Modular digital printing press
:Dotrix Modular prints on roll material from 20µm flexible foils over self-adhesives and shrink sleeves, to folding carton of up to 350gsm. Due to the modular concept you can add flexo stations if there is a need to apply coating, varnish or flexo white to packaging.
The :Dotrix can be customised with inline converting stations for slitting, sheeting, folding, embossing, die-cutting, etc.
Cost-effective digital printing press
With the :Dotrix Modular digital printing press you will have no more need for printing plates, films or anilox rolls. Just keep your files on a simple hard disk instead of archiving expensive plates and cylinders.
With :Dotrix Modular it is possible to reduce the high costs on short and medium rungs that are eating away the profits on the longer runs.
The reliability and guaranteed uptime of the :Dotrix take away the fear of quoting. There is no need for trade offs or compromises of extended production schedules as :Dotrix delivers profitably and to budget. With :Dotrix you only pay what you consume, so there is no click charge principle.
UV curable inks
Agfa :Dotrix opted to go for Agfa-developed and manufactured UV ink. UV curable inks dry instantly, which makes handling, finishing and converting all possible on an in-line installation immediately after printing. UV ink has all the advantages required by packaging converters. Printing speeds of up to 1,200m²/hr will make meeting strict deadlines easier.
Safe and economical digital printing
UV ink contains no volatile chemical components, which will make operators happy. Due to the digital technology :Dotrix Modular will come to speed extremely fast with practically no substrate waste.
Integratable digital printing press
The :Dotrix Modular can be installed with an :Apogee work-flow or it can easily be integrated into an existing work-flow and specialist software. This means that installing a :Dotrix Modular doesn't influence the workflow of an existing business.