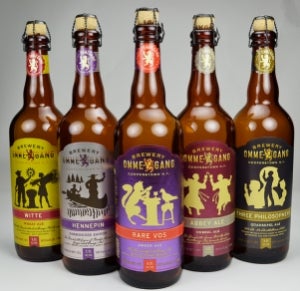 The 26th Annual Gold Ink Awards by Printing Impressions Magazine is the most prestigious printing competition for the graphic arts industry. The 2013 winners were chosen among thousands of entries received from around the globe and submitted in nearly 50 different categories. Winning pieces surpassed their competitors based on print quality, technical difficulties and overall visual effects.
Ommegang Brewery won the Pewter Award for the rebranding of their line of beers in the labels category. Duffy & Partners created the new logo and label design giving the labels a unified branded look. Flower City Printing contributed by choosing a metallizing paper by AR Metallizing to achieve a luminous effect for the new labels. The end result was a shimmery, elegant line of beer labels providing a unified branded look that showcases the old world look of craft beers.
Metallised paper boosts the appeal of products on shelves, driving sales.
Condiments are used worldwide to enhance hot dogs, sausages, and deli sandwiches. Even the best-known brands still find that metallised paper labels help them stand...
Metallized paper is helpful for communicating the message of high-quality paints for the best-selling paint manufacturers.