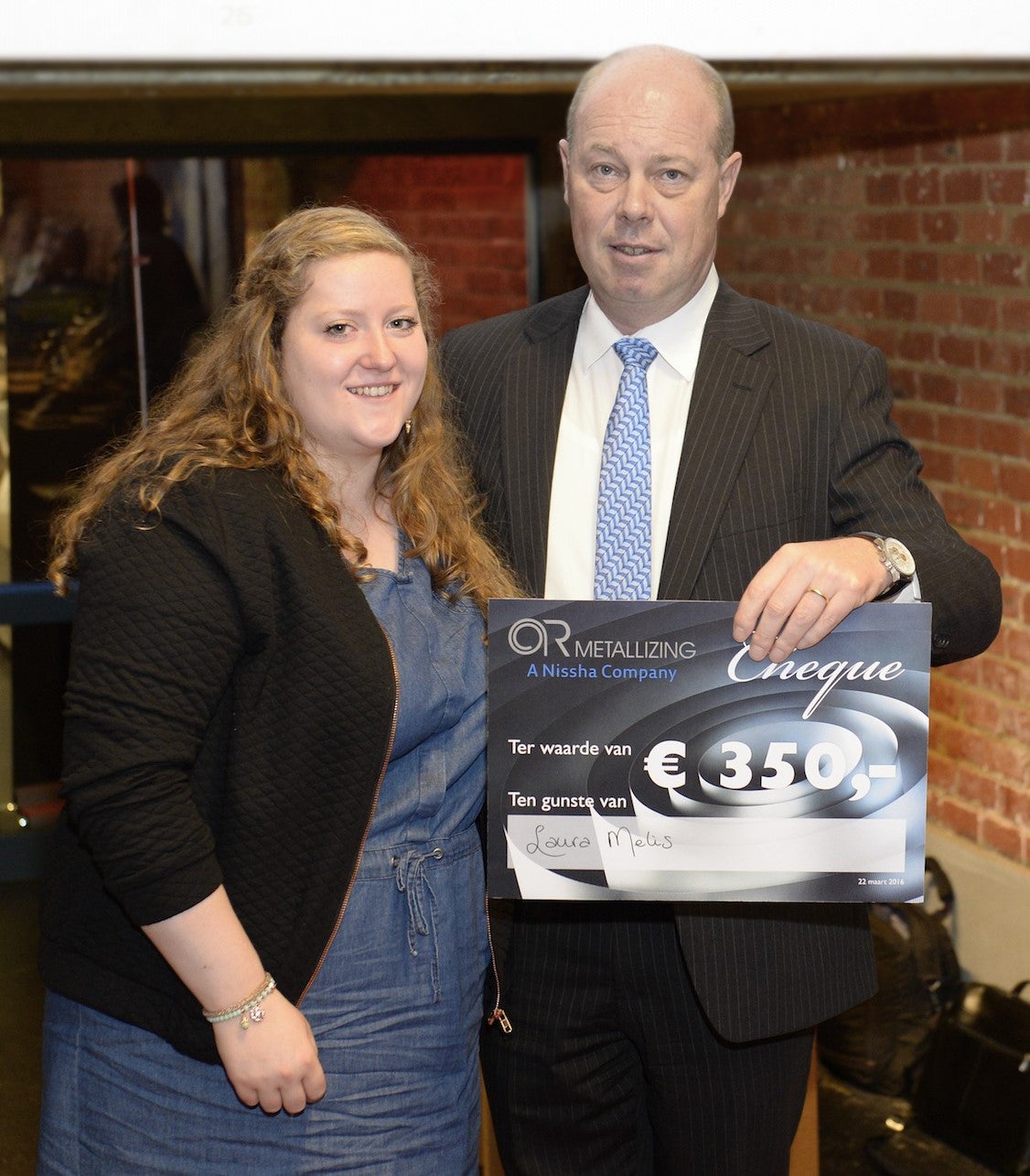 AR Metallizing has awarded a VOKA Bryo scholarship and a stipend to Laura Melis, second-year student in interior and design at Thomas More College in Mechelen.
Innovative competition
Earlier this year, AR Metallizing, in association with interior and design instructors at Thomas More College, organised a competition for the best and most creative and innovative subject for a product in metallised paper. Many inspiring and artistic projects saw the light of day in less than four weeks.
Composed of instructors and staff of AR Metallizing, the panel of judges chose Laura Melis's project out of some 32 entries. Laura designed an innovative and commercially very usable cold pack of metallised paper for the direct cooling of sport injuries among other applications. Laura presented not only a strong, commercially usable product, but shared a good portion of knowledge with the panel of judges, which she had acquired from her extensive market research.
Other entries were also rewarded. The CEO of the internationally operating AR Metallizing, Bart Devos, who is rarely in Belgium, had come to Mechelen specially for the award ceremony.
Julie Blanckaert received a pecuniary prize for Tree Paper Tree, a project suitable for trade fair materials and booth layout. Elke Van Casteren and Dominique Ter Braak each received a pecuniary prize for inventive flower seed bags made of metallised paper. Danique Krijn and Simone van Rooijen were rewarded for their beautifully designed lunchboxes under the name of Green Box.
The winning designs will be shown at various international trade fairs attended by AR Metallizing in the coming months. With the competition and related prizes, AR Metallizing wants to stimulate the creativity and entrepreneurship of young talents.
Worth repeating
This was the first time that the competition was organised, but it is most likely it will not be the last. Bart Devos, CEO of AR Metallizing, said: "Entrepreneurship, sustainability, inventiveness and creativity are highly prized at AR Metallizing. And we like to get others involved as well. You cannot stand alone as a company.
"The cooperation with the students and the college turned out extremely well. We are very much impressed by the quality, professionalism and diversity of the entries by interior and design students. We will presumably organise such competitions more often.
"Thomas More College can also look back on fruitful cooperation with the internationally active AR Metallizing. Interior and furniture design lecturer Bart Baccarne said: "It was a very instructive assignment for our students. We are always eager for new, sustainable materials. The students were given carte blanche for their creative process. It was a fruitful cooperation with AR Metallizing indeed."
Frédéric Achten, general manager of VOKA – Mechelen Chamber of Commerce, said: "The process and fabulous result from the cooperation between AR Metallizing and Thomas More College is a source of utter delight for us. It is a fine example of win-win situations that ensue from the cross-fertilisation between education and business.
"As VOKA – Mechelen Chamber of Commerce, we vigorously endeavour to build bridges between the two. All proof provided in support thereof makes it clear to us and to the world that we are on the right track. Furthermore, it provides additional motivation to continue to invest in it."
About Thomas More College – Interior and Design
Interior and Design is a programme of study at Thomas More College in Mechelen. Young talent is trained to become interior designers or furniture designers. Mechelen has been a furniture city since time immemorial, whence the affinity with furniture, home accessories and product design, which is also purposefully perceptible in the programme of instruction. Design and Interior leads to the professional bachelor's degree and immediate employability on the labour market.
The wide range of design disciplines and their crossovers, together with the focus on feasibility and viability, make this degree programme a coveted partner for research, source of ideas and expansion of creativity in the discipline and in industry. A large segment of instructors from practice run a specific design agency themselves and are in the very thick of the field, for the direct benefit of the students.
About VOKA – Bryo: the springboard for effusive entrepreneurial talent
Bryo stands for 'Bright and Young'. It is a network of young, passionate people ready to put their entrepreneurial ideas to practice. Bryo is a project of VOKA: A Flemish network of companies that provides advice and support to young people aged 18 to 36 with high potential and great entrepreneurial enthusiasm. The young entrepreneurs who take part in Bryo are advised and guided for two years in all the challenges and decisions up ahead, during and shortly after the start up or acquisition of their own business, individually or as an association.