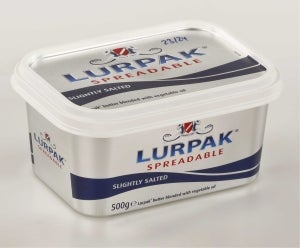 When leading dairy producer Arla Foods wanted to update the Lurpak® Spreadables packaging, they were looking for three things: protection, sustainability and shelf appeal. European industry leader in injection mold packaging Superfos and the leader in metallized paper AR Metallizing (ARM) were able to provide Arla Foods with the solution they were looking for.
Superfos designed a customised PP packaging using ARM metallized label paper for the labeling, resulting in a package that has a much more beautiful, silvery look than that acheived by the thermoformed packs that were used previously. The new packaging succeeded not only in form but also in function, with the metallized label paper serving as a blocking agent by preventing light and UV light from seeping through the packaging while sitting on store shelves. The other important function served by ARM metallized paper is environmental sustainability, as the paper is fully recyclable.
The winning combination of Superfos' customised container and ARM's metallized label paper created a final product whose form and function are of the highest level; an elegant, silver package that helps convey the premium quality of the Danish-made product while also protecting the product from the supermarket lights.