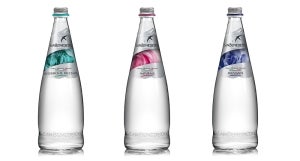 The bottles of San Benedetto's new limited edition of Prestige Water are visually impressive, taking inspiration from roses.
Thanks to the vivid colours and photo-realistic print on the inside of the back labels, the roses shine through the window labels in front so clearly one can almost smell them. Both front and back labels are printed in rotogravure.
By using one of the most elegant flowers for the labels, San Benedetto underlines the high-quality and exclusiveness of their products. Choosing CCL's WashOff technology is once again a clear statement pro sustainability: the traditional Prestige Water, as well as the Bibite Softdrinks already carry WashOff Labels by CCL.
The Prestige Water range is mainly designed for the gastronomy segment and comes in four different formats: 025l, 0,5l, 0,75l, 1l.
Furthermore each of the three different variants has its own individual rose: the still water 'Naturale' has a pink rose, the sparkling waters 'Frizzante' and 'Leggermente Frizzante' have blue and turquoise roses sprinkled with water drops.
San Benedetto entrusted CCL with the production of the labels as they provide their approved WashOff technology in combination with the best printing results. The two companies already look back on four years of successful collaboration and partnership.