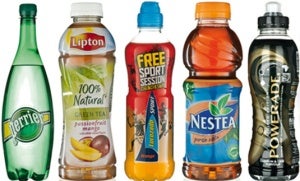 With manufacturing sites in Austria, the UK, France, Thailand, the US, Mexico and Brazil, and licence agreements in many more markets, CCL is able to provide 'local' service in most important markets and regions throughout the world. Multinational customers find it of particular benefit to tap into the CCL network to experience coherence with global rollouts, and streamline their business processes and supply chain. A culture to innovate and ongoing investments into the latest technologies ensure customers get great decoration results and efficiencies with CCL sleeves.
Shrink sleeves in various printing processes
Whether it's a 'metallic' look on a liquor bottle, large print runs for dairy products, tactile elements or the little emergency job for a promotion, as a CCL customer, you are able to dial into an extensive range of printing techniques, including rotogravure, UV flexo, CI flexo, offset, digital, screen-printing or a combination of these. CCL will find the most appropriate and cost-effective solution for you.
Developing solutions for you
CCL's R&D teams develop customised solutions to make your brands outstanding. Experienced technicians liaise with all other project members (containers, machines) in order to engineer the correct specification for your application. Special distortion software, proofing facilities and the shrink-laboratory are critical in taking your concept to reality. Finally, field engineers will help you begin production and offer after-sales service.
Research on materials is carried out on an ongoing basis to provide customers with cutting-edge developments. CCL also offers a vast range of clear and opaque shrink films up to 80% shrinkage with different characteristics. CCL was first to market with low/no-migration ink chemistry to conform with food safety regulations.
Sustainability efforts
Reducing the carbon footprint of products is a major target. CCL recently launched shrink film with the very low specific gravity needed for bottle-to-bottle recycling. Food grade rPET from used PET-bottles can be refined without any impact from the sleeve decoration.
Triple S® sleeve labels – generating savings, maximising brand impact and enhancing recycling
Triple S Super Stretch Sleeves using advanced low density PE film technology not only feel like the sustainable choice when in the hand. Like-for-like sleeve label comparisons offer brand owners, retailers and their suppliers potentially huge film tonnage savings of 50%. This is due mostly to the significantly lower density of the LDPE film (0.91gr/cm3) compounded by the fact that considerably less material is required per sleeve label. Which means that stretch sleeves with as much as 55% stretchability present a new, innovative and viable solution for your sleeve label requirements for most bottle shapes.
The viability of Triple S has never been stronger since the launch in 2011 of the Sleevematic ES application machine from Krones AG ensuring output speeds of 27,500 (single-carousel) to 55,000 bph (dual-carousel).
Triple S coupled with the Sleevematic ES provide a platform for improving sustainability and operational performance whilst strengthening brand communication and promotion.
In summary the benefits include:
Potential 50% like-for-like weight reduction per sleeve label
Vast energy and efficiency savings resulting from a leaner, cleaner application process (no shrink tunnel, no bottle drying)
Low density (0.91gr/cm3) allowing easiest and cleaner separation, thereby supporting PET and bottle-to-bottle recycling to become more efficient and to improve both quality and yield as no adhesive is required and there is no ink bleeding during the recycling process
Superior carbon footprint and a reduction in fossil fuel usage in their manufacture (as recently validated by Lenfest Center for Sustainable Energy, Columbia University)
360° full-body coverage providing the optimal communication and promotional platform
Triple S is perfectly aligned to the industry's sustainability targets and activities whilst offering businesses measurable savings.
This is strongly supported by the recommendations of the EPBP (European PET Bottle Platform) as published in their 'Design Guide for PET Bottle Recyclability' in which LDPE sleeves are named the 'preferred' choice in the context of recyclefriendliness.