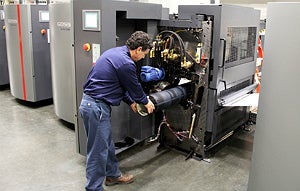 With intensive print testing completed throughout October at its headquarters in Durham, New Hampshire, Goss International started shipping its first Sunday Vpak packaging press on schedule to Precision Press in Minnesota (US) this week.
The new variable-repeat web offset press system will be configured for flexible packaging and label applications, with Sunday Vpak 500 printing units, as well as Goss in-line flexo and coating units and UV and EB curing capabilities. Goss International staged the entire press system prior to shipment and conducted a wide range of print tests on various substrates.
"We were very impressed with what we saw in New Hampshire from both a print quality and an operability standpoint, and we're excited about being able to put this unique new web offset packaging option to work for our customers by the end of the year," according to Lee Timmerman, president of Precision Press.
Peter Walczak, director of product management for packaging presses at Goss International, says the new Sunday Vpak presses address the growing demand for higher print quality, lower costs, shorter runs and faster turn-around times. "With new quick-change sleeve technology and our proven expertise in high-quality web offset production, we are presenting the packaging and converting market with a more productive and cost-effective alternative to sheetfed, flexo and gravure options for many applications," he explains.
Goss Sunday Vpak presses can be configured for a wide range of folding carton, pre-print, flexible packaging and label applications at up to 1,500 feet (457 metres) per minute. The Sunday Vpak 3000 model features web widths up to 75 inches (1,905 mm), with a repeat range from 27.6 to 55.1 inches (700 to 1,400 mm). The Sunday Vpak 500 model is available in web widths up to 41 inches (1,051 mm) with a repeat range from 16 to 32 inches (406 to 812 mm). (October 26th 2012)